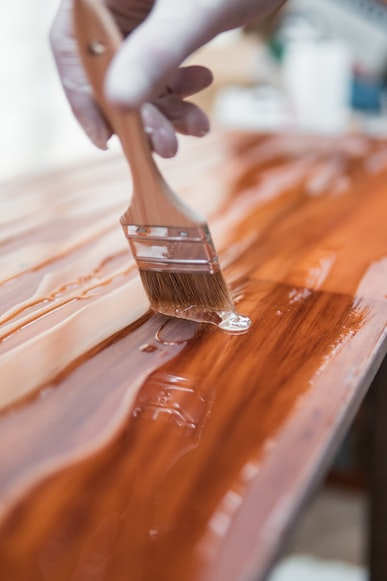 Wood Polishing: How to Do It at Your Home
Wooden furniture pieces are timeless classics—they are solid, sturdy, long-lasting and beautiful. But, like any other beautiful thing, they need care and maintenance. Wood tends to lose its shine with regular use. This mostly happens due to rough handling, wear and tear due to regular use, and daily exposure to heat and moisture. However, it is not difficult to refurbish your old and worn down furniture pieces and restore their natural beauty and shine with periodic maintenance in the form of wood polishing.
Polishing wood is one of the easiest and simplest ways of restoring its natural beauty and highlighting its grains. While you may believe that polishing wood furniture is a tough and tedious task requiring expert hands, it is not true. In fact, wood polishing, with enough time and patience at hand, can be a highly satisfying job. Plus, once you grab hold of the right wood polish for your furniture, you can indulge in beautifying it at home itself.
Today, in this article, let us look at how we can go about polishing woods at home. Here's all you need to know about the wood polishing process.
Choosing the Right Wood Polish
Picking the right wood polish that suits the wood used for the furniture is critical in ensuring you achieve the right finish at the end of the wood polishing steps. If you are looking for a readymade wood polishing solution, then there are many types of polishes and varnishes available in the market. For polishing teak wood or any other wood, you must know about the two main categories of wood polishing solutions—surface polish, which stays on the surface of the wood and provides a thick layer on the surface, protecting the wood, and penetrating polish, which penetrates the surface of the wood and is absorbed by the fibers of the wood.
If you prefer using a readymade wood polish, then you can choose from the following types:
1) Water-based wood polish
This can be used on any kind of wooden surface—bare, painted or stained. This kind of wood polishing provides a clear coat on the wood that does not turn yellow with age, unlike in the case of oil-based polish.
2) Lacquer wood polish
One of the best types of wood polish, lacquer wood polish offers a rich, luxurious and glossy finish. It can be sprayed on the surface of the wood and dries up really fast. However, the finish is sensitive to heat and may emit fumes, making it a bad option in a household with young children and babies.
3) Varnish wood polish
Quite durable for wood polishing, it can be applied to both bare and stained wooden surfaces. It is available in many varieties of sheen. However, it should be applied to wet surfaces.
4) Shellac wood polish
Providing hard finish, shellac wood polish is a stain remover and sealer. It comes in many wood polishing colors, making it perfect for redesigning old furniture pieces. But, it cannot stand moisture and should not be used for outdoor purposes.
5) Polyurethane or PU wood polish
One of the most sturdy and durable finishes, PU wood polishing is considered ideal for almost all kinds of furniture and wooden surfaces, including wooden flooring and window panes. Resistant to water and moisture, PU wood polish cannot stand ultraviolet sun rays and turns yellow with prolonged exposure.
6) Oil-based wood polish
Penetrating oil-based wood polish gives a rich, luxurious and satin finish to wooden furniture and can be easily incorporated in the teak wood polishing method. In addition, it easily covers up scratches and small cuts on the surface.
7) Wax-based wood polish
Again, a penetrating polish, wax-based wood polishing is available as paste as well as liquid. Usually obtained from natural plant and animal sources, this is as natural as possible. Depending on the type of wax-based polish, it may have to be dissolved in oil before application.
Read - How to Clean your Chopping Board for Long-lasting Life?
Homemade Wood Polish
If your purpose is to just remove dust and stain from the surface of the wood and add some moisture to it, then you can consider making your own wood polish at home with easily available grocery items. Here's how you can do it.
To prepare wood polishing, combine equal parts of white vinegar and lemon juice, and spray it on the surface of the wood. Vinegar removes grease and stains, while lemon imparts a citrusy fragrance to the surface. Use apple cider vinegar for dark woods.
Mix two parts of olive oil with one part lemon juice to make a penetrating wood polishing solution. Olive oil moisturises and protects the wood, and gives it a natural shine.
One of the most important wood polishing tips is that you must make a fresh mixture every time you want to apply it on your furniture or other wood surfaces. Make wood polishing solution in small batches and refrain from storing it for more than a month.
Clean the Wood Surface Thoroughly
Ask any wood polishing services provider and they will tell you how important it is to ensure that the surface of the wood—be it for furniture or wood door polishing procedure—is thoroughly clean. At home, you can clean the wooden furniture by first wiping it with a damp microfiber cloth to remove dust and grime, followed by a dry wipe. For stubborn stains, use a mild soap solution for cleaning. Wipe it dry immediately as even water can leave stains on wood.
How to Apply Wood Polish?
Wood polishing is no rocket science and does not require dedicated wood polishing tools. All you need to have is a soft clean piece of cloth.
To start with, divide the furniture to be polished into small sections and approach them one by one. Dip the clean cloth piece in homemade polish, squeeze out the excess solution and apply it over one section of the wooden furniture. Apply it evenly in the direction of the wooden grains and buff the surface for the best results.
Remember not to apply too much polish on the wood as any oily surface can cause dust to stick to it. Polish the furniture section by section for an even finish.
You can use natural homemade polish to condition wooden frames, cutlery and other kitchen items.
If you are looking for a new hobby to kill your time indoors or to engage older children during summer vacations, then wood polishing can prove to be a satisfying as well as a productive activity. Wood polishing at home is an easy way to restore the lost charm of wooden furniture and make them shine like new.
Guide to Buy Wholesale Furniture in India
The prices of things have gone up everywhere and it is difficult to find things that fall under your budget. For instance, buying wholesale furniture is not easy. As a distributor, you have to look...
Read more
Baby Cradle Decoration Ideas 2022
Welcoming a baby home is one of the most precious moments in a parent's life. A mother, especially, cares for a baby for nine long months in her womb until she finally gets to see the baby's face. ...
Read more