Perfection by Hand
Not only it takes years to learn, but Lots of efforts to achieve the quality. Modern product can be made easily but when it comes to carving & more intricate furniture, It becomes a challenge that can be overcome is with Experience.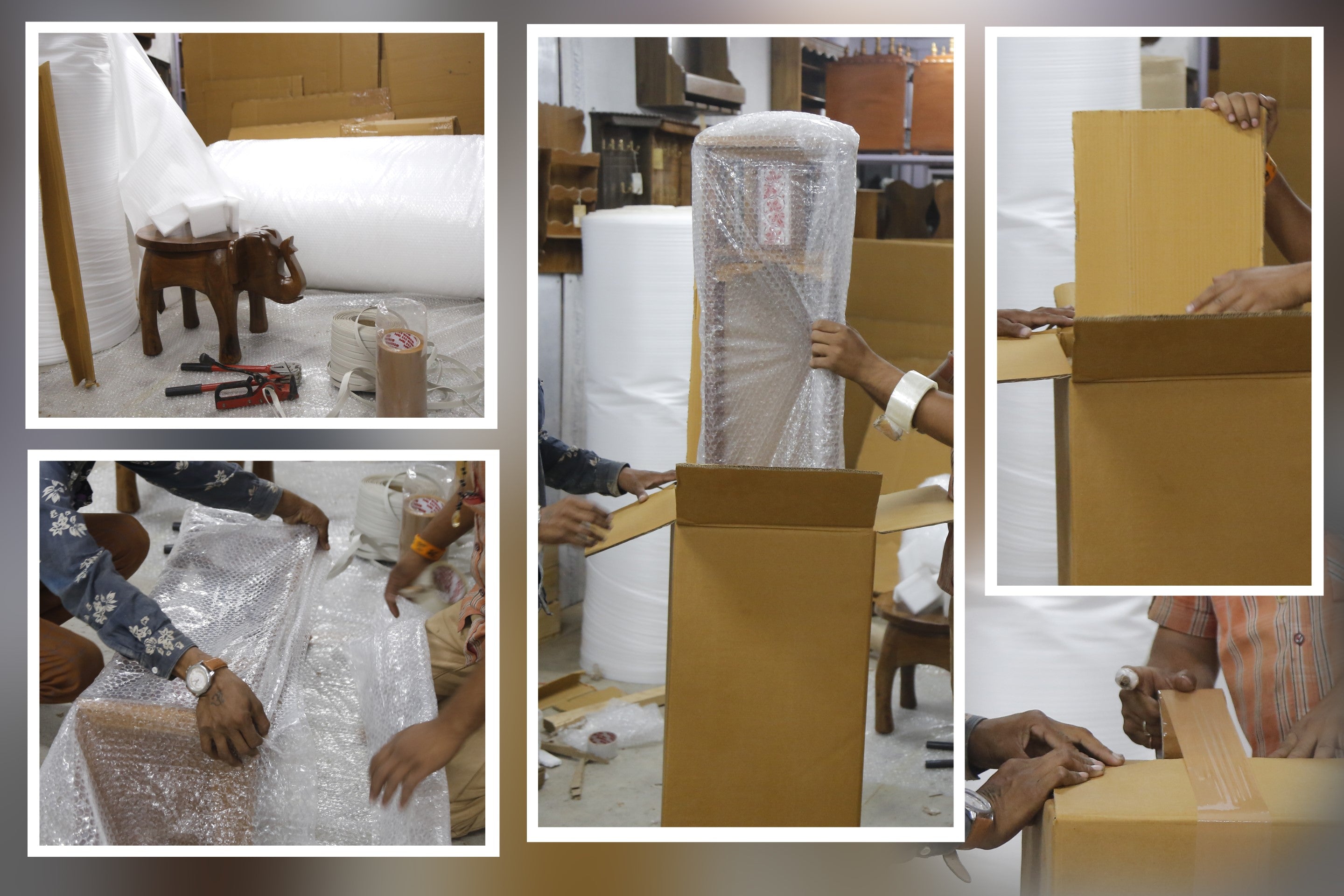 Safe Delivery Promise
We have done countless test to achieve 98% Safe Delivery without any damage. Rest assured when purchasing from Woodsala, As we have got you covered!
Quality meets Traditional Touch
We Focus on improving on daily basis. Learning from Good & Bad experience to enhance our offering as well as Quality. We believe in concept of HandCrafted & Personal Touch in our product.
Wood furniture at a Price
In this competitive age, Getting a Piece of furniture at Great price is easy but getting a "Total wood" product at a Good price is a Extraordinary because it requires experienced carpenter & Good quality raw material sourcing which is a rare combination!!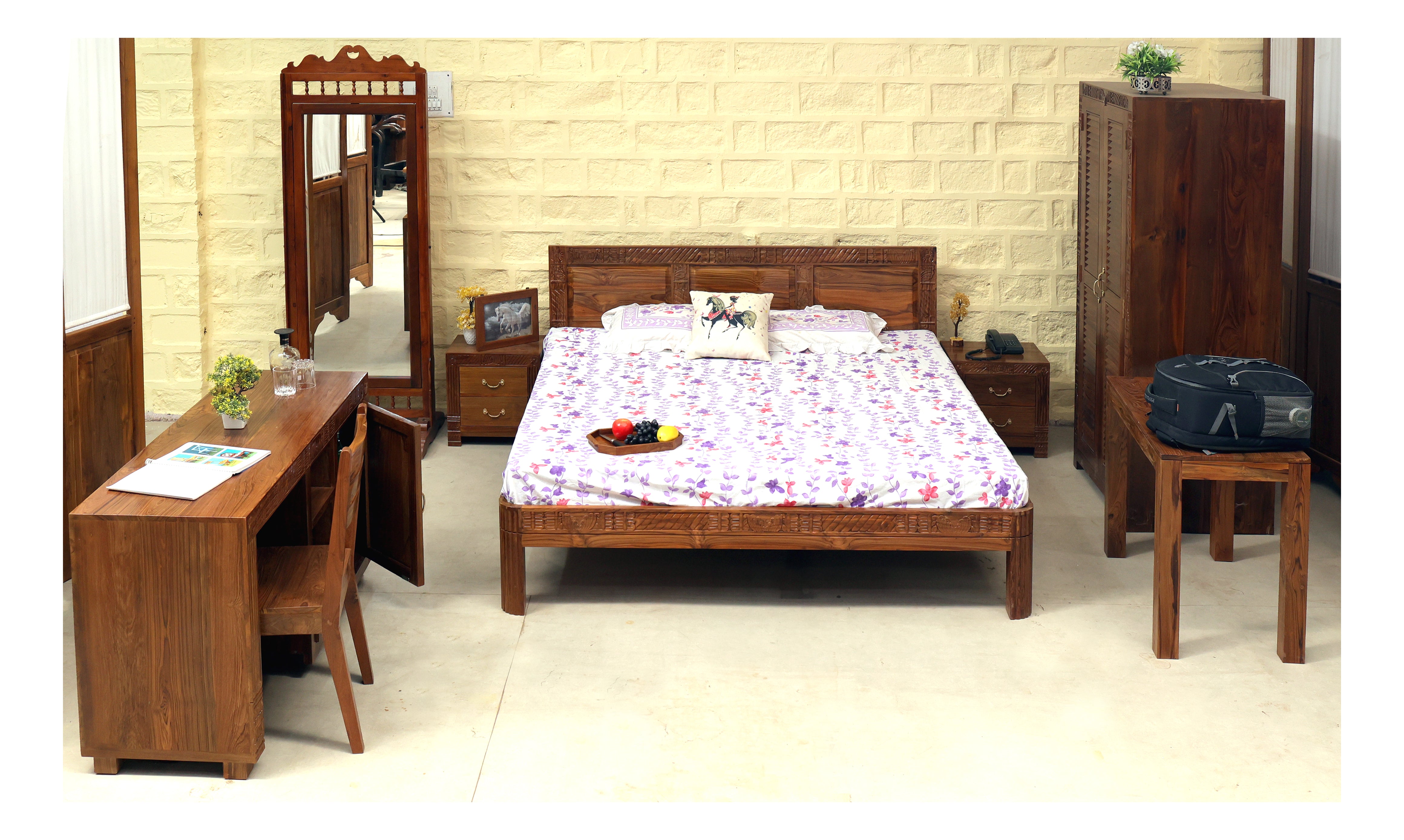 Furniture Means Wood
Here at Woodsala, We don't use Engineered wood or MDF except in case of behind mirror or upholstery, As we ourselves belive that Wooden products are for decades to come.
Vast range of Products
We keep 85% of our products in unpolished form, resulting in offering Free polish customisation & few touchup's, Along with "Freshness" in Each Product. We take pride in our Quality, Offering & Craftmanship!!
Woodshala : The Day in a Life of Team Woodshala
Let customers speak for us
Enjoy the hassle-free experience of buying furniture online
Picking wooden furniture online was never this easy! Exquisitely carved wooden furniture is an intrinsic part of the Indian aesthetic and your home will be incomplete without it. They evoke childhood memories and link you to your roots and culture. Now you can pick from our outstanding catalogue of wooden furniture to truly enliven your living space. It is easy, reliable and trustworthy.
WHY BUY YOUR WOODEN FURNITURE ONLINE?
With wooden furniture, what you see is what you get – every painstakingly handcrafted detail intact. All you need to do is to keep the dimensions you are looking for ready, so you can make the perfect choice. So, why spend your time tackling traffic, crowds and salespersons, when you can sit with your family in front of a laptop and pick out the right furniture for your house. With Pan-India delivery and free installation, we have made your shopping experience as seamless as possible. Our unmatched lifetime warranty symbolises our trust in the quality we offer. And our thousands of happy customers over the past ten years will be happy to vouch for us.
WHAT YOU CAN EXPECT FROM US
In one word – quality. Outstanding design, impeccable craftsmanship and absolutely professional service, if you want us to elaborate. Woodsala's furniture is made from the most prized teak wood and solid wood. Genuine woods of the highest quality go into the hands of our expert craftsmen who turn each piece into a masterpiece.
For that personal touch, you can even get in touch with us for customisation, and we will make sure your chosen furniture reaches you, exactly as you envisaged it.
We want our furniture to be treasured as heirloom pieces. So, we put in the effort to make sure each piece from our stores stays true to our promise. And with our hassle-free delivery, all that remains for you to do is, take pride in your new possession.

CHECK OUT OUR ENTIRE CATALOGUE – RIGHT NOW!
Browse through our extensive catalogue of beds, sofas, bedroom furniture, dining table sets, jewellery boxes, artistically carved mirrors, cabinets, tables and more. Explore wooden furniture by room or style for a customised space that adapts to your personal taste. If you are looking at setting up a home office, we have an outstanding array of work desks and chairs to choose from. Go through our well-crafted and ergonomic designs and find that perfect fit.

All tese factors make Woodsala the best place for buying wooden furniture online in India. So, shop to your heart's content and get your favourite wooden furniture delivered to your doorstep.