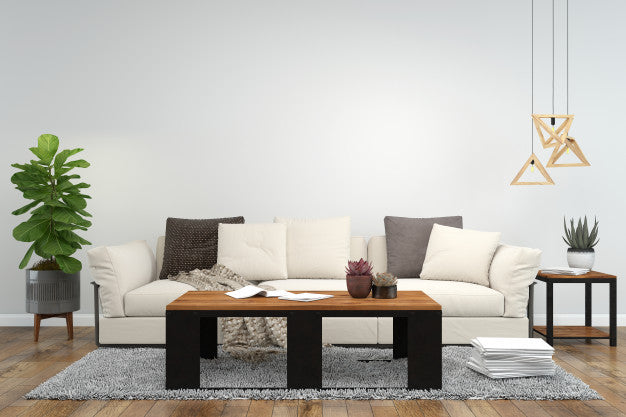 Keep Your Wooden Furniture Termite Free with These 8 Easy Tips
From a cozy bed to a spacious wardrobe, or a comfortable sofa set to a classic dining table, wooden furniture is a staple for every home décor scheme. Although wooden furniture pieces are a symbol of resilience and are known to last for eternity, they can be prone to damage if not cared for properly. One of the potential dangers of wooden furniture is termites or white ants. These are hard to notice and only become visible once significant damage has been done.
Here are some helpful tips to keep your furniture termite-free:-
Prevent moisture- Moist, damp conditions are perfect for termites to thrive. So, ensure that the room or the area is well-ventilated and airy. If you notice holes and sawdust around chips and cracks, it's a sign of termite infestation. If it's just a mild infestation, you can get rid of it easily. Either get professional help or leave your affected piece of furniture out in the sun for 2-3 days. Termites cannot stand the heat and die easily.
Use high-quality plywood or laminate as liners – These days, high-grade plywood and laminates available in the market are of superior quality, moisture-proof, and resistant to termites. So, use thick laminates for lining the inside of wardrobe, drawers, etc. The thicker the layer, the higher will be the resistance to termites.
Apply anti-termite chemicals – Apply anti-termite chemicals or wood preservatives followed by a coat of laminate. You can get this done from to time when you decide to go for cleansing and polishing of your wooden furniture. This will make your wooden furniture resistant to termites.
Avoid direct contact of wood with soil – Avoid placing any of your home furniture in the garden or in direct contact with the soil. Keep it on concrete or tiled surfaces. Contact with soil can allow termites to bore into the wood.
Use termite-resistant polish – Make it a part of the maintenance routine for your daily use of furniture. When you go for polishing, always opt for termite-resistant polishes to make your prized furniture last long.
Ensure pest control- It is always a good idea to get pest control done for the house every one or two years. It is usually carried out by professionals, and in case of a termite infestation of your home furniture, they use strong chemicals to exterminate them. This can also be a preventive measure to ensure that your furniture retains its freshness for years to come.
Check for termite-resistant wood quality while buying furniture- Check this point with the manufacturer while buying wooden furniture. Make sure they use only termite-resistant building materials and ask questions about the type of wood, polish, laminate, etc. Certain types of wood like rosewood, cedar, juniper, etc. are resistant to termites.
DIY care tips – There are certain DIY steps that you can take to protect your furniture from termite. Use fresh aloe vera juice extracted from the leaf and mix it with water. Then spray the solution on the affected area or those areas that are susceptible to infestation. You can also use vinegar or borax solution (borax powder with water) as a spray, from time to time, to keep your furniture termite-free.
You need to take special care if you live in coastal areas where the atmosphere contains high amounts of moisture. Eliminate any source of standing water or wet soil near your furniture. Problems like seepage in the walls and broken pipe/faucet should be fixed immediately. Following these simple tips and investing in professional help from time to time to care for your home furniture can go a long way in retaining their resilience, appeal, and durability. 
Read Also - Coronavirus Home Tips: How to Effectively Disinfect Furniture
How Wooden Furniture is Manufactured
When you think of home improvement, the first instinct is a new coat of paint. The second? Shiny new furniture, based on your tastes and daily needs. Smart selection can elevate every room into a s...
Read more
The Varying Worlds of Wood in Furniture
From couches to cabinets, beds to bookcases, there's no functional area in the house that is untouched by the finesse and richness of wooden furniture. Its unique aesthetics, sturdy constitution, a...
Read more