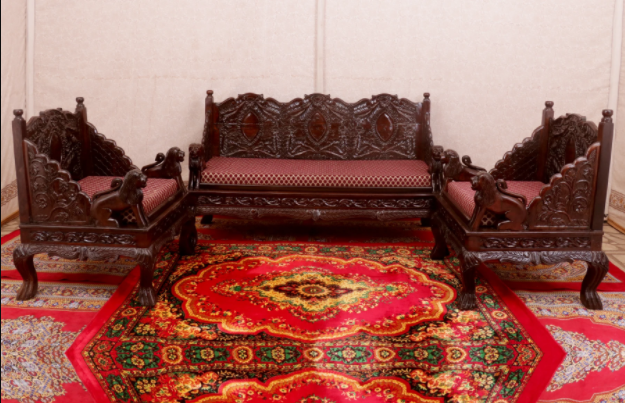 Here's How a Traditional Sofa can Transform Your Living Room
If there is one emotion that dictates your level of comfort in any space, it is nostalgia. Putting something in your living space that can evoke memories of childhood with its simple joys and happy, carefree days, is bound to instantly make you relaxed and comfortable. Which explains why so many Indian households prefer a traditional aesthetic when it comes to decorating their homes. Even if you have a uber-modern or contemporary interior design, having a piece of traditional furniture can instantly uplift your mood. A traditional sofa is a valuable asset to your living room. Allow us to take you through some wonderful reasons why buying a traditional sofa for your home would be an awesome choice to make.
Traditional sofas are almost like works of art
Indian-style wooden furniture is so intricately carved that it almost looks like something you could put on display! Check out the Lion Carved Teak Wood Sofa on Woodsala's traditional sofa store page, for instance. The dark hues and the hand-worked back panel and carved legs are so beautiful that you might almost not want to sit on it. Putting a traditional sofa in the living room instantly creates an aura of beauty in the room and creates a focal point to the room, much like an oversized work of art or an arresting chandelier does.
Read - The Ultimate Guide to Buying the Wooden Sofa Set for Your Home
They impart a regal air to the living room
Putting a traditional sofa in the living room elevates the look of the room by imparting a regal air to it. You can either use it as the centrepiece of your main seating arrangement in the living room or even, space permitting, keep it as a separate, more intimate arrangement away from the main seating area. Use a rug to heighten the feel of a special nook just for close friends or a significant other. Rich fabrics in the upholstery make it seem even more attractive and special.
They invoke memories of ancestral homes
Every child would have enjoyed playing on the comfortably large traditional sofa sets in their grandparents' homes. Adopting a bit of that aesthetic into your home gives you a link to the past – something that will unconsciously put you in a more relaxed state of mind. The rich velvet upholstery and snug rounded armrests on a traditional sofa for daily use can transport you to your childhood!
They create great props for Insta worthy clicks
It is like having your own personal photo booth at home! Make any get-together or hangout memorable by clicking pictures individually and in groups on your traditional sofa set. Check out the Traditional Teak Wood Flower Sofa on Woodsala right away and you will see exactly what we are talking about! Floral or Mughal-inspired prints on the upholstery can be really eye-catching and make for beautiful backgrounds for all your clicks.
Read - Modern Wooden Sofa Design Ideas for Your Living Room
They go with any style and design
The best traditional sofa for your home is one that is not only comfortable and durable but also fits in with the rest of your home. Wooden sofas are highly adaptable when it comes to design aesthetics and a beautifully carved Indian sofa design will look very much at home even in the most contemporary living rooms. The warm and neutral colour of the wood has that quality of blending in. If need be, you can use a contemporary print on the upholstery to tie the look together.
When you are looking for a traditional sofa online, make sure to have exact dimensions in mind so that you can pick the best one for your living room. You can even make use of the customisation option, if there is a design you love and need it to fit the available space in your living room.