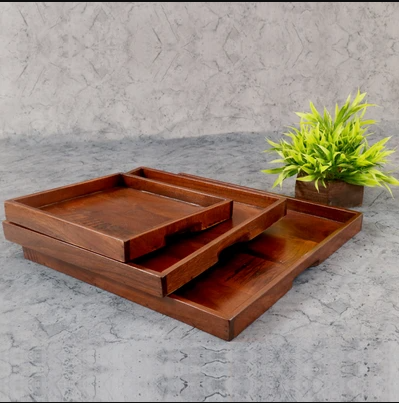 Serve in Style with a Traditional Wooden Tray
No house should be without one! Yes, we are talking about the traditional wooden tray. If you have noticed the households that use wooden trays, you would have found that they seem to last a lifetime! Wood is a naturally durable and strong material that can handle quite a bit of wear and tear. The warm and beautiful wood colour adds a subtle elegance to whatever you are serving on it. They are also available in many different shapes and patterns to keep your collection varied and interesting. Check out the collection of wooden trays on Woodsala and you will see what we are talking about! Here are some reasons why your home has a need of a traditional wooden tray.
It is the responsible choice
The era of use and throw is slowly declining as people are beginning to realise the harm it does to the environment. A wooden tray is a small contribution you can make to the environment because it is made of a natural material that can easily be recycled. But it won't come to that as these items can last for a long time. When you get bored of one, you can simply use it for other purposes and get a new one for serving guests. Which brings us to the uses of a traditional wooden tray.
They can be put to several interesting uses
Besides serving drinks or snacks to guests, there are many other roles that a wooden tray can play. You can use them to arrange food artistically on your table when you have guests over. You can use them as holders for your curios or small photo frames on your side tables or mantels. They can be used to create a beautiful display with candles or lamps when you have an auspicious occasion at home. Wood looks particularly great with gold or brass lamps and other devotional material. You can even put them in the bathroom to hold your bath accessories in a tidy manner. The best use of a traditional wooden tray, we would say, is to hold your most prized crystal or silverware when you have special guests at home. Carved or embellished wood is a beautiful backdrop to highlight your most exclusive possessions.
Read - 6 Trendy Wooden Tray Decoration Ideas You Can Try
They come in many interesting shapes and designs
From classic rectangles and trendy squares to beautiful ovals and interesting polygons, Woodsala has an amazing range of traditional wooden trays that would greatly enhance your precious serving ware. While the purpose of a traditional wooden tray is to bring beverages or snacks to guests, the carved and embellished models you see here will inspire you to use them in far more creative ways. The stackable sets that come in different sizes are incredibly versatile and can be put to use in many ways.
They are easy to care for
Your wooden trays need little care to keep them fresh and ready to serve for many years! You can easily wash them with soap and water in case of spills and otherwise just wipe them with a soft cloth before storing in a dry spot, preferably away from direct sunlight. Every few years you can the trays them a fresh coat of polish to get them to look bright and new. You can even use your creativity and add elements like brass or metal handles and studs to give them a makeover.
Check for amazing designs for a traditional wooden tray online right away! This is an eco-friendly and responsible choice for your home. It is time to think beyond the harmful non-biodegradable stuff and bring home a sturdy, reliable and beautiful wooden tray.
Read also - 7 Creative Ways You Can Style Your Wooden Tray