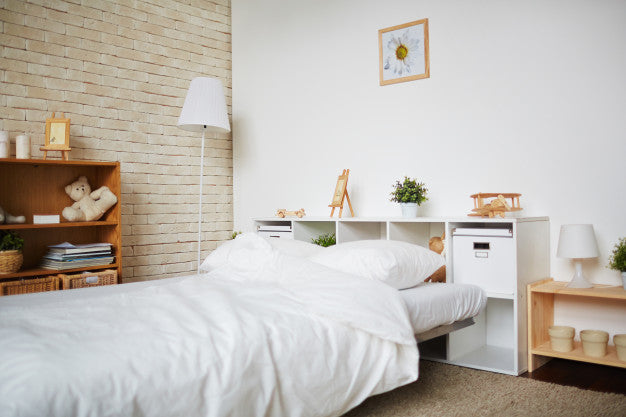 7 Small Bedroom Organizing Ideas that You Can Use
Bedrooms in any home are synonymous with comfort and warmth and are spaces where you can completely unwind and just be yourself. Bedrooms are personal, and therefore, everyone wants these to look appealing and organized. Right from keeping your closet organized to arranging the bedroom furniture in such a way that there's still enough room to move around comfortably, there are a number of bedroom decoration ideas that you can put to use.
So, here are some simple tips to organize your bedroom in a way that ensures optimum utilization of the space available:-
Be smart with the space under your bed– Not many people realize this, but the space under your bed can be utilized to store a number of items that you don't always need, like old books, old toys or old linen. This is especially helpful if you have a compact room. Instead of dumping things on top of the wardrobe, or pushing them to corners, you can simply stash them under the wooden bed. This area is not easily visible yet can accommodate a lot of stuff. Get wicker or wooden baskets that fit nicely under the bed and keep all odds and ends in them.
Bedside multi-pocket holder – In case your bedroom is not big enough to allow a side table, you can use bedside holder bags for essential things that you need by your side, like the AC remote, phones, tablets, books etc. Tuck them neatly in the storage bag hanging by the side, so your bed is litter-free.
Use minimal furniture – Too many furniture pieces can make your room appear stuffy. So, use minimal furniture items and use storage space wisely. Choose the essential pieces of furniture accordingly. For instance, use a bed with inbuilt storage drawers if you have a small room, and use a mirror with wall mounted wooden shelves to double up as a dressing table.
Use a basket for pillows or a blanket rack – A blanket rack can be really helpful if you want to use your bed space optimally. This way, you can easily toss the sheets or blankets on to the wooden rack, when you're tidying the bed, instead of throwing them on the floor. Similarly, a pretty wicker basket can accommodate all your throw pillows and cushions when you're not using them.
Have a table with lots of drawers – If your room isn't big enough to accommodate a table, choose a drawer chest that doubles up as a table, depending on your need. If you're just looking for a tabletop to charge your accessories or keep all handy things accessible, a drawer chest is a great idea. You can use the top as a table and the drawers for storing all your knickknacks.
Tall corner shelf - If you love books, you probably can't imagine your bedtime without curling up with a good one. If your room isn't spacious enough to accommodate a bookshelf, you can choose a tall corner shelf that is either wall-mounted or standing tall to stack your favorite reads. These don't take much space and can utilize unassuming corners well.
Maximize wall space – If you love the sight of books and you want to store your past reads for display, you can use high wall mounted shelves for items you don't need to access every time. These shelves can also be used to store other decor items that you'd like in your room.
Well, as you can see, a few simple fixes can make a lot of difference to your bedroom. These easy-to-apply modern bedroom organization ideas will ensure that your personal den is neat and clutter-free and routine cleaning is no longer a task.