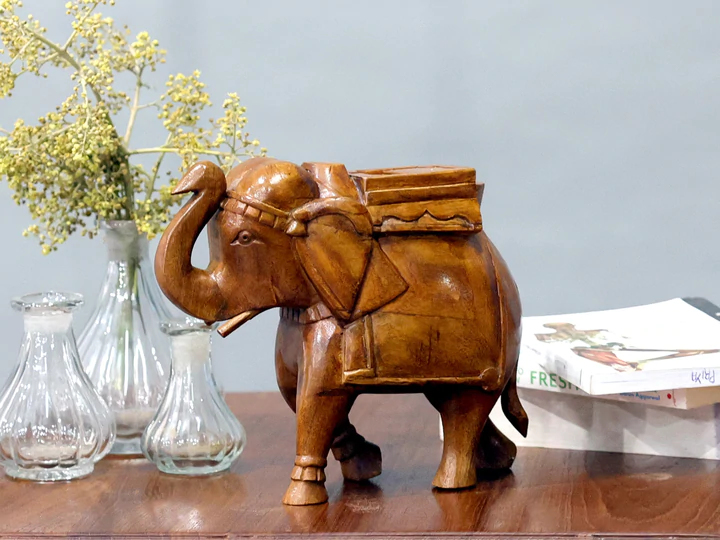 Top 10 Wooden Gift Items You Can Pick From Woodsala
Picking a gift is an art. It involves understanding the tastes of another person and also their requirements. Additionally, it should be appropriate for the occasion, should be aesthetically appealing and it should have a meaning. There are many wooden gift items online that you can choose from. Here are a few products from Woodsala's gift items list that can make the perfect present for your next occasion.
Wooden Rustic Boxes
This wooden gift item is beautiful and can be used for multiple purposes by the receiver. The wooden rustic box sets come in three sizes - small, medium and large. Made of natural, solid wood, it has a rustic finish that gives it a regal appeal. You can use it as a packing box for your other gifts, or give it as a gift itself! The gorgeous wooden finish, along with the delicate inlay work can be used in any of your rooms for decor or as storage!
Handcrafted Rajwadi Elephant Showpiece

An elephant symbolises strength and good fortune, and hence giving somebody an elephant statue is considered to be auspicious and a sign of wishing them a good life. A unique wooden item to give to somebody would be a hand crafted Rajwadi elephant showpiece. The wooden gift is rooted in the rich and royal traditions of India, and is created by the artist with attention to detail. The symbolic meaning of the gift makes it perfect for a housewarming or a festive gathering.
Miniature Chest of Drawers
If you're looking for a gift that is useful, yet adorable in appearance, look no further than this item. This miniature chest of drawers is 8X4X10 inches and would be a perfect addition to your home office or your study desk. The unique wooden gift item can be bought with a natural touch or a mahogany touch. Keep your everyday small items like rubbers, stamps, sticky notes or even some small keepsakes like photos. It will help declutter your desk, and even add a touch of whimsy to your work space.
Bridge View Wall Painting
Finding amazing wooden gift items online can be a hit and miss, but you'll never go wrong with a beautiful wooden painting that can spruce up any room. This Bridge View Wall Painting is made of beautiful mango wood and will be the perfect addition to anybody's living room, office, dining room, etc. It is a versatile piece that will fit in any of your style décor, and instantly gain you the reputation of an art aficionado.
Round Carved Wooden Clock
Made of beautiful natural solid wood, the round carved wooden clock is a gift that you should definitely consider giving someone. Its beauty lies in its intricate carvings. The dark wood and the white clock, create a nice contrast. The clock exudes a vintage appeal and would pair well with any décor style, be it traditional or modern. Also, it has a usage that is universal and hence it's the perfect wooden gift item.
Traditional Wooden Octagonal Bajot
Also known as a chowki in Indian households, this traditional wooden octagonal bajot is a unique wooden gift item. This item is most prominently used in prayer rooms and kitchens, but can also be added to your living rooms or foyers as classic decor pieces to give it a touch of tradition. This wooden gift product has a flat wooden top with tiny legs that have intricate carvings resembling tiger stripes. As it is made of teak wood, this item will last you for a long time.
Beautiful Wooden Swan Stand
A swan symbolises fidelity and eternal love, so this beautiful wooden swan stand can be an auspicious present for a wedding or an anniversary. This Woodsala's gift item is handcrafted to portray the grace and beauty of the swan, and act as a stand as well as an elegant decor piece in your room. It can be placed on any table or shelf, and it will up the charm of any room with its antique and rustic looks.
Simple Egyptian Wooden Candle Stand

Sometimes choosing something simple is the best option, when in doubt. If you're looking for a gift that is beautiful without burning a hole in your pocket, check out the simple Egyptian wooden candle stand from Woodsala's gift items. If you want a personalised wooden gift, you can customise it to get a name carved into the stand. It can be a great anniversary present, or a home inauguration present for somebody!
Colourful Tone Wooden Temple
This wooden gift is appropriate for somebody who is religious or spiritual. This colourful wooden temple is made of natural solid wood, and is a dainty 14X8X22 inches only. Its size is convenient and it is beautiful to look at. It's a perfect addition to a new office room where you may not have enough space for a full-size statue. If you are looking to save space in your home as well, you can mount it on a wall. Place a small statue of the deity in the temple and perch it on a shelf.
Humanoid 5 Drawer Wide Ceramic Organiser



If you're looking to add a little whimsy and colour to your choice of wooden gift item, you can choose the humanoid 5 drawer wide ceramic organiser. The front panels of the drawers are covered in beautiful hand painted designs that are colourful and can brighten up any space they're in. You can use them on your desk to store tiny items and de-clutter, or you can use it to store jewellery.
In conclusion
Hopefully, you have liked the collection we have shared with you. However, be sure to check out other items on our Woodsala website so you don't fall short of options.