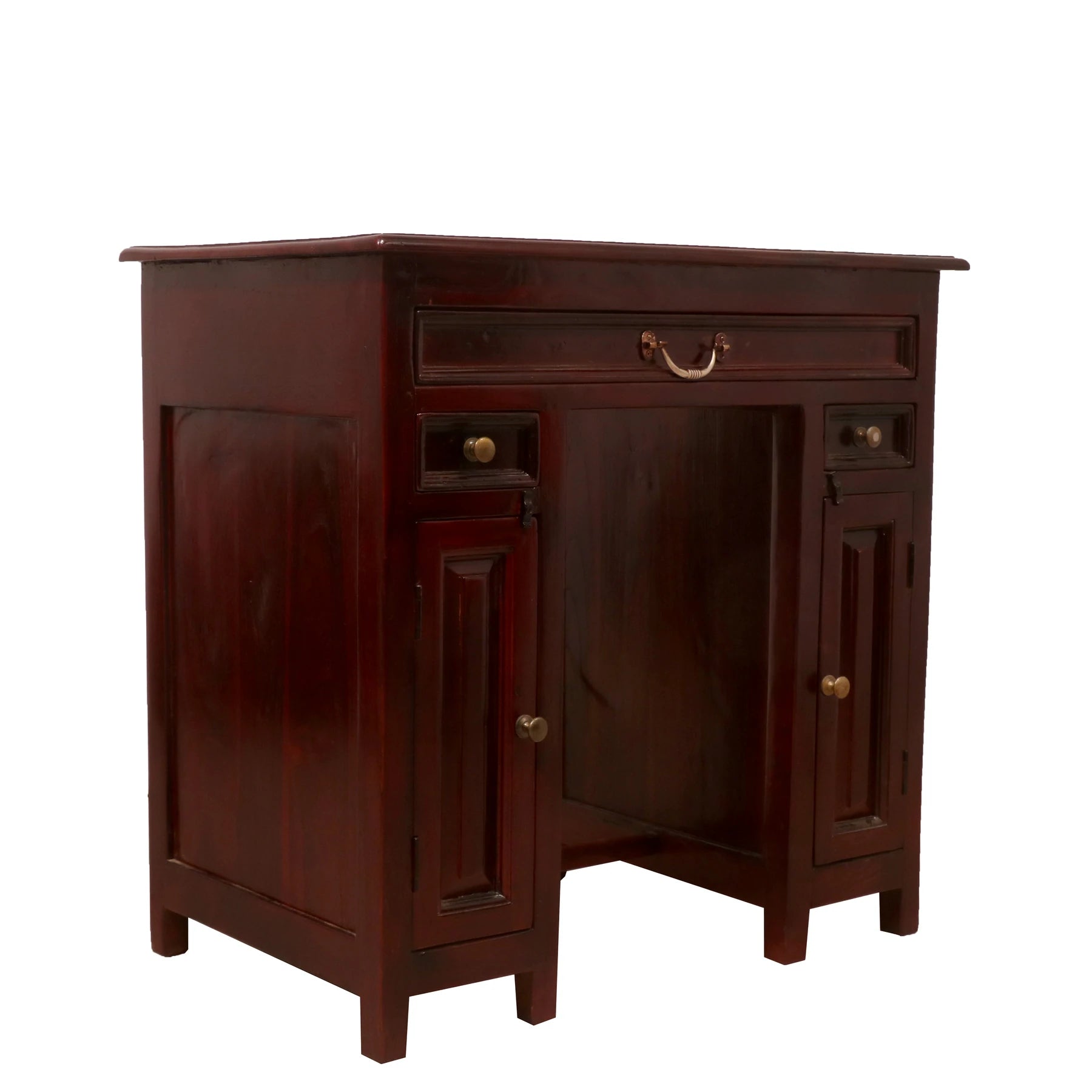 Creative Ways to Design a Study Table for your Kids
We all love putting a little extra effort into design our kids' rooms. The process can be tiring but it is also enjoyable. While many of us browse through beautiful beds, study tables, cupboards and other stuff available online or go hopping from shop to shop in search of the same, others prefer customized furniture for their little ones' rooms. If you fall under the second category and are trying to figure out a perfect kids study table design then the information shared here should come handy.
We have shared an exhaustive list of some of the most beautiful and innovative kids room study table designs. Go through it and find out which one is most suitable as per your requirement.
We have attempted to make this information useful for all those who are looking for study table design for kids irrespective of budget, the room size, and storage space requirement. This information also caters to those who are looking for a study table design for 2 kids or 1 or whether they wish to get it designed for a son or a daughter. Various kinds of study tables for kids have been shared here.
Study Tables for Small Rooms
Many apartments have a small study room. These rooms are so small that they can barely accommodate a single bed and a cupboard. Incorporating a study table in such a room can be quite challenging. You must look for an innovative way to do so. Folding study tables can be good choice for such rooms but putting the conventional ones to use can be a hassle.
Imagine, your kid unfolding and placing it appropriately every time he requires completing an assignment and then puts it back. Sounds exhausting, doesn't it? A smart choice here can be a foldable wall mount table. You may hang a small white board by its side, stick a motivational quote right where it folds and affix a pen holder on one side to create a perfect environment to sit and study as soon as your kid opens it.
This is also a good option if you don't have a separate kid's room and want to create a study corner in your bedroom. This kids study table design for bedroom will give your children the much needed space to study systematically.
Adjustable Study Tables for Kids
Kids grow up really fast. Thus, while purchasing stuff such as beds, study table and wardrobes for them it is important to ensure that these things remain useful and relevant even as they grow up. Go for a study table design with adjustable height. This way you wouldn't have to look for a new one as your child grows taller.
Many stylish study tables with adjustable height are available in the market. You may even get it custom made as per your specific requirement.
Study Table Design for Two Kids
Placing two separate study tables in a single room can be quite difficult but if you have two kids it can be difficult to manage with just one standard study table. What to do in such a scenario? The solution is to go for a customised modern study table design for two kids and place it strategically to accommodate both of them.
A rectangular table that is longer in length is a good option here. It should be long enough not only to accommodate both of them but also to ensure they are able to sit at some distance from one another to avoid disturbance and chaos. It should also have separate drawers for each kid so that they can manage their stuff independently.
Add Vibrance to a Basic Study Table Design
If you do not want an elaborate study table with drawers and shelves because your budget doesn't allow it or because you already have enough storage space in the room or simply because you love keeping it simple then a basic study table made with good quality wood is a good choice for you.
However, do not just leave it that basic. Add some colour to it to pep your kids' mood every time he sits to study. Adding small things such as a tiny planter, a colourful pen stand, a small white board, designer time piece, trophies your kids may have won or a globe can do the needful. However, do not overdo it. Choosing a maximum of three things among the aforementioned is a good idea else the space will look cluttered.
Read, Also - Wooden Dining Table Design for Home & Office
Kids Wardrobe Design with Study Table
It is a good idea to go for an integrated wardrobe design. This is especially an excellent choice if there isn't much storage space in your kids' room. Your kids can place their books and stationary items in the wardrobe for easy access. Having all the stuff handy as your kid sits to work on an assignment can help save a lot of time and energy.
Kids Room Design for Girls with Study Table
If you are looking for a unique study table design for your girl child then we suggest going for one with multiple drawers as most girls love compartmentalising their stuff to place it systematically. A unique study table design for kids especially girls can be one with different neon shades drawers. You may even go for an all over light pink or purple shade for the study table.
Study Table with a Comfortable Seating
One of the best ways to concentrate is by sitting cross legged on the floor. If you want to create that kind of a study environment for your kid then go for a table with short legs or no legs at all such as that shown in the image above. It makes for a perfect study table for kids room. It also has ample storage space to accommodate books and stationary items. You can spread a colourful rug in a corner of the kids' room and place this table on it to create a beautiful study space. Place an indoor plant nearby to enhance the ambience.
The design of this table is such that your kids wouldn't outgrow it and even if you plan to buy a new one for a change, this one can be used for other purposes too.
Wide Variety to Choose From
If choosing a personalised study table design for kids, finding good quality material to build the same and dealing with local carpenters to get it custom-made seems like a big task to you then you may check out exclusive modern kids study table design offered by reputed furniture brands such as Woodsala. The brand has a wide variety of study tables for kids online. They have been crafted to match different requirements and budget.
Just browse through the wide array of designs to choose the most suitable one for your school and college going children. Purchasing readymade study tables for kids by reputed brands is a great way to ensure you bring home a good quality product that is sturdy, stylish as well as durable.
Useful Tips while Choosing Study Table Design for Kids Room
Here are some key points that must be kept in mind while selecting study table design for kid's room:
The study table for kids design must have enough space to accommodate at least the stationary items and other essentials so that the kids don't have to get up frequently during their study sessions. If you go for a basic design without cupboards and drawers then make sure the table is spacious enough to place a pen stand, table lamp and other essential items.
The shelves and drawers on the study table should be placed in such a manner that your child can reach them easily. They should not be at a height which is difficult to access for the kids.
You may get study tables made with different kinds of materials such as wrought iron, plastic and fibre. However nothing beats the charm and comfort of a wooden study table. Choose one made with good quality wood to ensure it is robust and durable.
In conclusion
We hope the innovative designs shared above help you design a unique study table for kids. The tips mentioned above must also be taken into account while choosing study table designs for kids to make sure you bring home the most appropriate one. Do not forget to tell us which study table design you finally selected and how satisfied you are with it. We would love to hear from you.
Read, Also - How to choose a perfect wooden table?