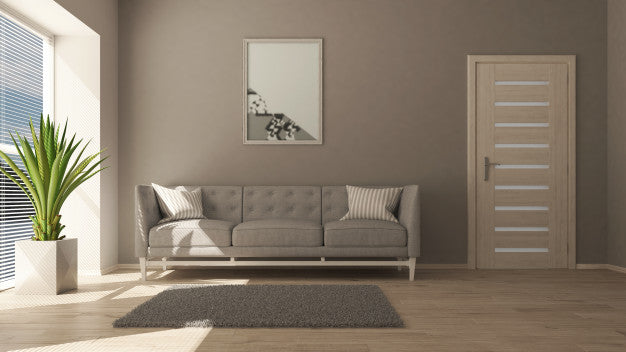 Modern Wooden Sofa Design Ideas for Your Living Room
Whether you are entertaining guests or just chilling with your family at home, your living room is where you spend most of your leisure time. The living room is the centre of your home and can make a lasting impression. Therefore, it is important to decorate this space tastefully. When it comes to living room decor, the sofa is the highlight of the entire setting.  It can make or break your decor theme, and hence, you have to choose it carefully.  There are different types of sofa sets available these days. However, when it comes to quality, durability and strength, wood is unparalleled. And thus, wooden sofa sets are widely popular. Also, from handmade wooden sofa design to wooden sofa come bed design, there are a range of choices to take your pick from.
Read - Wooden Sofas For Your Outdoor Decor: Get Summer Ready
Apart being durable and strong, the versatile nature of wood makes it easy to pair it with all decor themes, whether traditional or modern. Here are some wooden sofa set designs that you can consider if you're planning to decorate or revamp your living room:-


Daybed Sofa – Ideal for studio or small apartments which don't have a lot of space, the wooden daybed sofa can act as a couch by day and a bed by night. It is perfect if you're a bachelor living alone in a studio and have friends over often. Use a memory foam mattress with fabric of your choice along with smart cushions to complete the look!
L-Shaped Sofa – Perfect for large families or those who host parties often, this L-shaped affordable sofa is available in 5-seater, 6-seater or even 8-seater models. It goes extremely well with modern apartments that have spacious living rooms. The wooden frame is covered in fabric. And you can choose the fabric you want and pair it up with cushions and throw pillows get the perfect look. These sofas are placed along walls, and therefore, tend to make the living room appear more spacious. Complement it with a square-shaped table of appropriate size to complete the setting.
Ottoman Sofa – Looking to buy a wooden sofa that lends a regal look to your home? This Ottoman 3-seater sofa from the house of Woodsala is just what you need. Handcrafted from solid wood with light brown finish and brown upholstery, the sofa-cum couch will blend nicely with all colour schemes and decor themes. The design presents minimal carving patterns along the wooden edges. You can complement it with an antique wooden table of the same colour to lend a timeless appeal to the setting. Use delicate curtains in the background and pepper the sofa with some stylish cushions to create an attractive den.
Craved Antique Sofa Set – Lend a flamboyant touch to your living room by buying this black charcoal polished wooden sofa set online. This antique sofa set with lion carvings is sure to take you back in time and make you experience royal comforts. The 5-seater sofa set features exquisite carvings on the back and the armrests. Arrange beautiful cotton cushions on the seats to create for a charming picture.
Things to Consider While Buying Wooden Sofa
A single piece or a set of wooden sofa is an essential piece in your living room or drawing room. It not only enhances the functionality of the room, but accentuates the aesthetics of the room also. That's why, choosing the perfect wooden sofa design or wooden sofa set design is a matter of planning and thoughtful consideration. There are several aspects to be remembered while buying any wooden modern sofa design for your home-
Size of the space – the size of the space, where you want to put your sofa, is the first and foremost aspect to be considered. So before going for shopping your modern wooden sofa design, first measure the size of the space within the room. Then compare the size with options available online or in offline market, so that you can get the idea of the sofa size you can fit in.
Comfort level – The need for comfort is the priority while buying a sofa or a sofa set. As the center-piece of your drawing and living room, the comfort ought to be according to your taste. A wooden sofa design should always support your back and posture. The softness or fluffiness of the cushion or upholstery would also be determined based on your preference of comfort level.

Read - The Ultimate Guide to Buying the Wooden Sofa Set for Your Home
Resistant frame – Like all other furniture, the frame is the foundation of any wooden sofa. It is the basic framework on which all the other material is weaved or mounted. Also, the frame decides the resiliency of a sofa. It provides the sofa the much needed robustness and sturdiness. No matter you choose a simple wooden sofa design or a unique handmade wooden sofa design, a strong and resistant frame is the must. A sofa has many layers, combined to make it a better looking and strong framed unit. And this makes the sofa a part of your family even longer.
Quality of wood – In case of buying wooden sofas, quality of the wood is obviously the most important factor to consider. Sheesham wood, Teak wood, and Mango wood are used mostly in making a wooden sofa. Checking the appropriate quality of wood is highly necessary here, as it is the main factor in determining the longevity of the sofa. Also, different woods come with different colors and finishes, expanding the options of choice.
Craftsmanship – The craftsmanship is the factor that can make a sofa a truly standalone piece. Polishing and providing a perfect finish to a wooden sofa unit is the base of craftsmanship. Then come the designs, carvings, and patterns. Be it traditional Indian style handmade wooden sofa design or latest modern wooden sofa design, a single sofa or sofa set can be a piece of art, depending on the level of craftsmanship. Before finalizing a wooden sofa set design for your home, don't forget to thoroughly check for any imperfection in size, shape, or symmetry.
To wrap up, you need to pick your living room sofa with care, as this is where you probably read the morning paper, watch the news on TV, curl up with a good book in the afternoon and entertain friends over coffee. Consider your floor space and the number of people who will be using it, before finalising a design. Still confused about all the choices available in wooden sofa for home use? Connect with us at Woodsala to discuss your ideas and we can customize designs as per your requirement and taste.
Read Also - 7 Essential Tips for Handling Your Wooden Sofa with Care