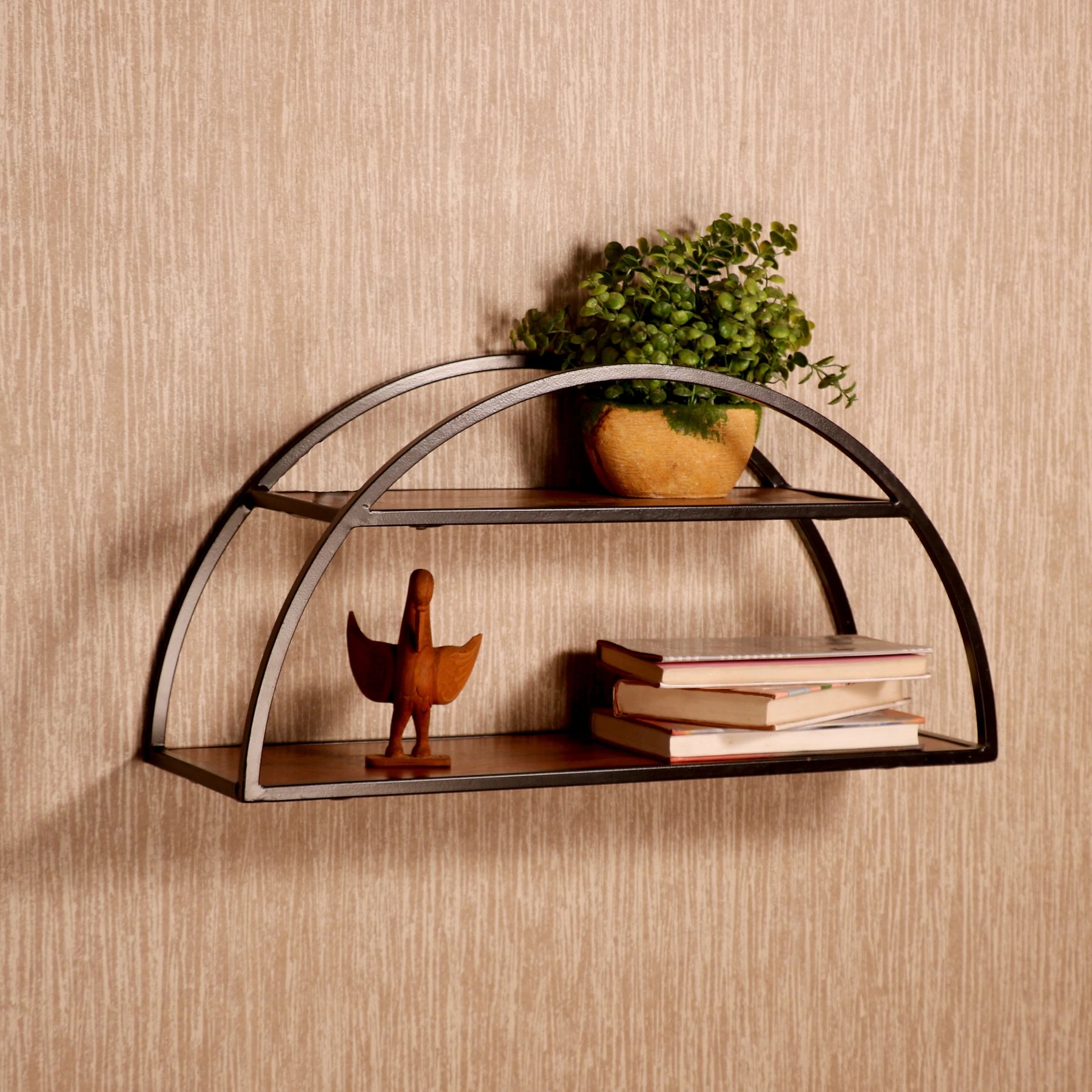 20 Mind Blowing Space-Saving Furniture Ideas
Smaller homes can be tricky to design, but with some space-saving furniture ideas, you can ensure that you optimise and make the best of the place available to you. From the kitchen to the bedroom, there are many options for space-saving furniture that will help you get a lot more in the room without it appearing crowded. Here are some tips and tricks for smart space-saving furniture that will change the way your small house looks and functions!
Kitchen
Use an Open Island Cart
Kitchen Islands can be of many types, like a bulky cabinet-based island in the middle of your kitchen. One of the ways to make your kitchen appear bigger is to opt for an open island cart, which is built in open shelves instead of cabinets. It'll provide you with not only a way to access storage from all the sides, but the lack of doors will make the kitchen look bigger. It's modern space-saving furniture which serves the triple purpose of storage, table and enhancing your place.
Add Cabinet Organisers
No matter how many cabinets and drawers you build, it's a waste if all you do in the end is cramming your things in there. Add a cabinet organiser, for spoons and forks, so you can utilise the space making compartments for all the things that allows you to store more things effectively.
Add a Pull-Out Station for Chopping
An example of kitchen space-saving furniture is a pull-out chopping station. It can be useful when you are dealing with small counter spaces. It's easy to pull out and use when needed, and you can just as conveniently tuck it back in when you don't. It's handy and clever.
4. Opt for Hanging Storage


Walls can be used for mounting shelves and cabinets, but a great space-saving furniture hack is to add pegs to hang things on. You can use these pegs to hang mugs, ladles, dish cloth, etc. Just stick a rail or a peg on your wall wherever you have free space (like over the sink, or under cabinets) and viola, you have some extra room!
Incorporate Items That Will Declutter Counters
There are ways space-saving furniture for the kitchen can help you make it appear bigger. One of the ways is to use items that will help declutter your countertops for the kitchen to appear organised and bigger than it actually is. Things like built-in stove tops, rails and open shelves on top of the counters, a tray where you can organise your counter items can make a lot of difference.

Read, Also - How to Pick a Furniture Market Offline and Online
Living Room
Opt for Nesting Tables
Nesting tables are essentially tables which stack one under the other and can be pulled out during company. Using nesting coffee tables can help you increase the area when you have more people and need more space, and you can just put them back and save space when it's only you! It's a space saving smart furniture that's also quirky and creative.
Add a Sofa-Cum-Bed
If you're always strapped for space when you have people over, investing in a sofa-cum-bed for your living room is an ideal choice. This is one of the best space-saving furniture available in the market because of its dual purposes. Depending on your needs, you can buy multiple varieties of these.
8. Use Hanging Storage and Declutter Floor


You don't have to take drastic steps; even small space-saving furniture ideas can change the entire look of the room. While cabinets are important for storage, sometimes there is not enough space for them. In such cases, add hanging open shelves. They take up less space, and make the room appear more open. Also opt for furniture that will keep the floor space open, like a mounted TV.
Use Multipurpose Furniture that is Also Storage
There are many options for space saving modern furniture available that can double as a seat or a table, as well as storage! Opt for a trunk as a table so you can use the storage space available inside and even sit on. Ottomans with built-in storage are also a great addition for your living room.
Add a Cabinet that Doubles as a Table
Dining tables can take up a lot of space, but there are plenty of creative space-saving furniture ideas that can ensure you can have your meal without taking up your entire room. Opt for a wall mounted cabinet whose pull down door can act as a table where you can sit and eat, and easily tuck it back onto the cabinet when not in need.

Read, Also - 10 Antique Furniture Pieces from Woodsala Collections
Bedroom
11. Bed with Storage Space
Bedrooms are places with endless things you need to store, from clothes to personal belongings. A bed with built-in storage space below it can be a perfect solution. If you don't have a space big enough for drawers to open, you can opt for cubbies built in your bed. A storage space-saving furniture for sure!


12. Add a Shelf Instead of a Bedside Table
Sometimes a bedside table just isn't possible, but we all need a counter beside the
bed
to put in your daily things like your phone and glasses. Opt for a bedside shelf that can be mounted on your wall. Even with space, you can opt for multiple open shelves as they're a great space-saving furniture idea and also make the room look bigger.
A pegboard is not just for hanging up photos and making cutesy Pinterest boards. It is bedroom space-saving furniture as it adds oodles of space to your closet to hang up everything from jewellery to clothes. It can be used as an alternate closet all together! Not only that, you can hang pegboards anywhere you want, like above your desk, to hang things on an otherwise empty wall space.
Buy Headboards with Storage

One can never have enough storage, and a way to ensure you have more is to use this space-saving furniture - a headboard with storage. It'll allow you to store everything, from books to knickknacks and also provide your bed a headboard. You can opt for one with cabinets or with open shelves. It'll also allow you to forgo the bedside table.
Add a floating desk instead of a table
A good bedroom space-saving furniture will give you extra storage, and it'll help you save some
floor space
. Mount a small floating desk in your bedroom to save space on the floor as it'll make the room look bigger and give you more walking space too. It can also double as a dressing table.
Other Tips
16. Use Pocket Doors


Using pocket doors throughout the door, like in your bathrooms and closets can help you if you don't want to waste the place needed to swing the traditional doors open. It is a great space-saving furniture design as when in use, the doors completely tuck into their nook without taking up any extra space.
Add Storage Under Your Stairs
With a combination of drawers, cabinets or cubby holes, you can turn your stairs into space saving furniture! You can store all your extra knick knacks, blankets, display family photos, everything and anything in those storage spaces.  Also use the space on the side of the stairs to hang up photos.
A great space-saving furniture idea is to build cubbies into the walls of your bathroom's shower. They not only add an earthy look to your bathroom space, but also save the space required to mount the
shelves
to keep your products. Not only in the bathroom, but this great space-saving design can also be used in the kitchen to store your many jars.
Often, the corners of the house go unused as it's not possible to put in cabinets over there. You can use a corner shelf, a space-saving furniture which will slot directly into the corner edges, giving you a space to display your stuff. It can be used in almost every room.
Opt for a Foldable or a Drop Down Drying Rack
One of the best space-saving furniture ideas is to use a drying rack that can be moved away from the eyes when not in use. A drop-down drying rack or a foldable one can be a good choice as they're both easy to pack up and store away in case you have company.
In Conclusion
Space-saving furniture can help you turn your small house into one that resembles a normal one in looks, feels and space. You don't necessarily need a huge space to live in. Just a little creativity and some great ideas can help turn your cute little place into a veritable mansion. If you're looking for some more space-saving furniture to enhance your house, visit us at our website for many such options.  
Read, Also - Guide to Buy Wholesale Furniture in India