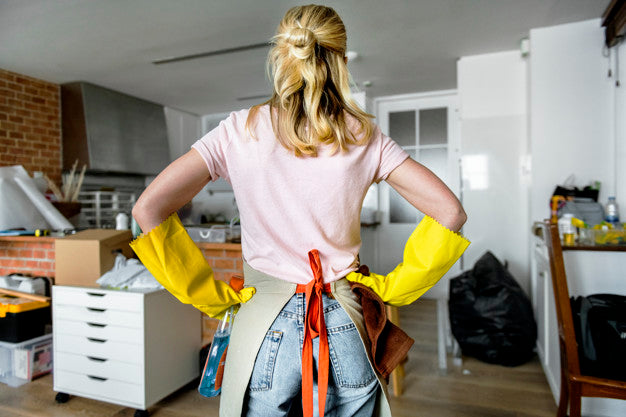 How to Clean Wooden Furniture: Here's Everything You Need to Know
Wood is probably the easiest natural material to maintain for a long period with very little effort. It is so strong and durable that it is easy to think it needs no care at all. However, you do need to pay some attention to your wooden furniture to keep it looking and feeling good through the years. The good news is that this is pretty simple to do and you can even rope in your kids to do this as a weekend chore. To make it easier for you, we have compiled the best tips to clean wooden furniture effectively. Follow these to keep your furniture hygienic and long-lasting.
The 4 Step Ritual to Clean Dirty Wood Furniture
First off, let's look at the factors that can cause damage to your wooden furniture:
Dust: You wouldn't really think of dust as something that can cause damage, but in the case of wood, a build-up of dust can cause tiny scratch marks that can deepen over time.
Food: Oils, spices and colours used in food can leave unsightly stains on your precious furniture.
Liquids: Even minor water spills, if not cleaned up immediately, can mix with dust to create grime and dirt on your furniture. Other liquids like milk and juices can create stains and leave your furniture dirty and smelly.
Read Also - 7 Maintenance Tips to keep your Wooden Door good as New
You need to know the best way to clean your wooden furniture to deal with each of these factors. As a rule, there are 4 steps you should take to keep your furniture looking neat and shiny: Dust, Deep-Clean, Wax and Polish.
The first step is regular dusting, which should be done at least on a weekly basis. This should be done more regularly if you live in a highly dust-prone area. Use a light microfiber duster to get the surface dust off. Proceed to wipe with a soft microfiber cloth to lift the dust that may have seeped deeper into the wood so as to prevent build-up. The cloth can be damp but not wet. Woodsala, the furniture expert, advises you to do this religiously every week.


The second step to clean wooden furniture is deep cleaning. For this, you can use a mild detergent and a soft cloth to wipe down your furniture, making sure nothing goes into the pores or crevices in the wood. If your furniture has carvings or engravings, make sure to wipe each line and contour carefully. If you want to skip the detergent, white vinegar diluted with three parts of water should also do the trick. Woodsala recommends that you dry off the furniture with a soft cloth and then rub down with olive oil to leave your furniture gleaming. For tougher stains, apply a paste made of baking soda and water and then wipe it off. Be sure to apply wood oil or olive oil afterwards.


To clean the grime off wooden furniture, you may end up wiping or scrubbing harder than the wood can take. This is where the third step comes in – waxing. This is not required on a regular basis – only when you feel your furniture is losing its sheen. This is relatively simple to do. Use a good quality wood wax, apply it to your furniture with a cheesecloth, let it sit for a few minutes, and then buff it with a microfiber cloth. This will protect the wood from dampness and help preserve the polish.


The final step to flawlessly clean wooden furniture is polish. If you ever notice scratches on your wooden furniture, it is best to immediately tackle it with some furniture polish. Even otherwise, it is a good idea to renew the polish on your furniture every few years. This essentially creates a coating over the wood that leaves it sleek and shiny and protects the wood underneath from dust and moisture seeping in and damaging it. This polish also protects the wood from termites and other insects.
Read - Keep Your Wooden Furniture Termite Free with These 8 Easy Tips
How clean your wooden furniture is, depends on the love and attention you give it. High quality Woodsala furniture, for instance, can last you a lifetime and be passed on to your kids too. They will continue to look shiny and new for years, as long as you follow this 4-step ritual.
Some additional tips for keeping your furniture clean and hygienic
Sometimes, vintage furniture can start emitting strong smells. The first thing you can do in this case is to let it sit in the sun for some time. A light dusting of talcum powder or baking soda can help absorb smells too.
A homemade, safe and natural wood wax can be easily made using your microwave oven! Mix beeswax in coconut oil/olive oil in a 1:4 ratio and allow the beeswax to melt in the microwave. After completely melting and cooling, apply this to your furniture in layers, allowing enough time in between for each layer to cool.
You can use toothpaste to clean off the white spots left by water on wooden furniture.
For your dining table, always use coasters and placemats before placing food and drinks so the wood is protected both from heat and spills.
While cleaning your wooden furniture, take care to cover the upholstery with a cloth so that nothing splashes on to it.
Cleaning Your Outdoor Furniture
Outdoor furniture will need more regular cleaning than your indoor furniture because of its exposure to dust and insects. Use mild detergent to wipe them down on a regular basis to prevent dust from building up. Keep checking the furniture to ensure there is no insect infestation. Some kinds of wood like teak wood have a natural ability to resist insects, but in other cases, you may need professional help to preserve the integrity of the wood.
The best way to clean wooden furniture is to be regular about it. Never ignore small scratches or damages. Taking prompt action will ensure that the problem does not get worse and cause damage to the wood in the long run. Good quality wood like what Woodsala uses in their furniture is of course vital to making your lovingly procured items last as long as you want. However, that is not enough. Keeping your furniture clean and hygienic is extremely important too, for its longevity, and especially in light of the present pandemic. So, follow the above guidelines and you can be sure of both your family's safety and the lasting appeal of your beautiful wooden furniture.
A Handy Guide to Outdoor Furniture Care
The number one rule when it comes to choosing furniture for the garden, balcony or veranda, is to go for durable materials. Wood and metal rule the roost in outdoor furniture as they are incredibly...
Read more