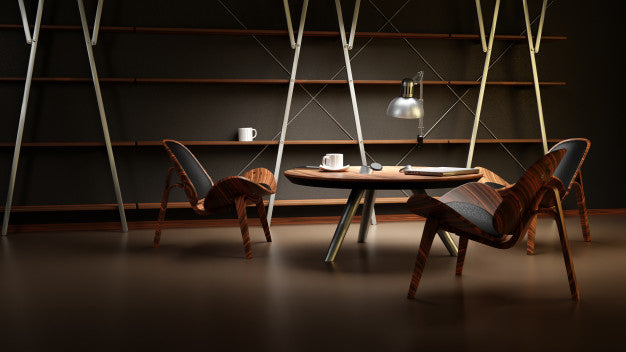 All You Need to Know About Furniture Trends 2021
It's that time of the year again! Though 2020 has mostly been an ordeal, owing to the pandemic, lockdowns, and isolation, the dawn of a new year does bring in fresh hope. Moreover, the pandemic has forced homeowners to become more conscious of their interior design and furniture style, thanks to all that time spent indoors. So, for those of you who are planning to move into a new home in the coming year or hoping to give a makeover to your present home, we've got you covered. Here is everything you need to know about furniture trends in 2021.
Top Furniture Styles for 2021 According to Designers
The three words that have cropped up in most designers' predictions for interior design trends for the coming year are:
Vintage
Natural
Comfortable
It is not surprising that after the surprises (read shocks) 2020 threw at everyone, people would want to continue with some of the newly adopted practices like working from home or being more environmentally conscious. The top trends predicted are thus reflective of the lessons learned this year. Read on to know about them.
Read - Picking the Perfect Furniture Pieces for Your Kitchen Made Easy
The Shape of Things to Come
Rounded furniture is a recurring theme in the predictions for furniture design 2021. This may have something to do with the retro trend that was big even in 2020. Woodsala's stylish country-style chair is a perfect representation of some of the major trends in the coming year – it is rounded, vintage-style and sports deep blue upholstery, fully embracing the naval colour trend. The retro coffee table is also a great example of this style.
Metal's Day Out
After being relegated to the back of furniture stores for quite a long time, metal is another element that's seeing a comeback in furniture trends for 2021. This may have something to do with the industrial furniture trend that is reviving and also the people's love for modern aesthetics. Look for unusual furniture pieces in metal like this stunning coffee table.
Mix, Don't Match
The co-ordinated living room set look has already been on a decline with people opting for stand-out pieces like accent chairs and futons. In 2021, it is predicted that highlight furniture will rule the roost. Invest in that one piece of furniture that can almost stand in for artwork. Who says furniture is only meant for practical purposes? It can also make a statement about your aesthetics, like this bright and inviting wing chair from Woodsala.
Make it Light and Easy
Light coloured wood will be the preferred tone in the coming year. Light wood is soothing, casual and earthy, just like life in 2021 is expected to be. For coffee tables, dining sets or kitchen cupboards, this is a colour scheme that will fit in perfectly anywhere.
Read - 7 Beautiful Storage Cabinet Ideas For Your Home
Say Hello to 'Cottagecore'
A repeated theme in trend predictions for the year 2021 is 'cottagecore'. This trend encapsulates the rustic chic and glamour of old-world country cottages. While rustic living is considered to be simple and minimal, cottagecore conjures up an image of subdued luxury, as seen for instance in this beautiful statement chair.
Embrace Retro
Vintage-style furniture is not a trend that everyone is comfortable with. If you don't want to go all out on this trend, why not start small with something you can relax in? Traditional reclining chairs are perfect to have in your home office for those much-needed breaks from work. Or you could co-opt a few old-style woven seat chairs or footstools. You don't have to fill your house with retro furniture to embrace this trend. Less is more when it comes to that perfect piece of vintage furniture that will make you feel right at home.
Sink into Velvet
Who doesn't like the luxurious feel of velvet against the skin? The coming year, velvet has a starring role in home furniture design. It fits right in with the overarching theme of comfort and vintage appeal. An exciting choice from Woodsala that ticks all the right boxes in terms of shape and look and is upholstered in earthy brown velvet is the Softer Brown Sofa Set. This is a piece you will love to have in your living room.
Read - Find the Perfect Wooden Table for Your Home
Outdoor Furniture Trends
In keeping with the desire to go natural, wood will continue to dominate furniture trends in 2021, in outdoor furniture as well as indoor. Wicker and metal are also great choices to adorn your terraces, balconies or gardens with.
Read - 
The Colours That Will Dominate Home Furniture Design in 2021
The Pantone Colour of the Year for 2021 is, in fact, two colours – Ultimate Grey and Illuminating, a shade of yellow. While these colours may inspire your choice of soft furnishings, there is a whole other palette that designers are getting ready to usher into homes. Design trend forecaster WSGN feels the anticipated return to normalcy in 2021 should be celebrated with 'happy colours' and for this, they have put together a set of 5 colours, each one credited with having a soothing effect on our minds. They are all drawn from Nature – Golden Honeycomb, Dark Oak, Lazuli Blue, Jade Green and Orchid Flower pink. While dark navy may rule walls and kitchens this year, shades of pink and pastels are expected to dominate furniture. All this means there is a wide range of choices to dress up your interiors this year, the overarching theme being natural.
If there is a lesson humanity has taken to heart in the year of the pandemic, it is the need to go back to a more responsible and sustainable lifestyle. There is also a greater emphasis on living in harmony with nature for the soothing effect it has on our minds, rather than just eco-consciousness. For all these reasons, wooden furniture, in 2021, as always, makes a lot of sense to invest in. And if you are looking for top furniture styles in wood, Woodsala's collection is always here to guide you. They are durable and give good value for money. So, embrace the New Year with nothing but the best for yourself and your family.
Read Also - Welcome a New Year with These Fresh Living Room Design Ideas