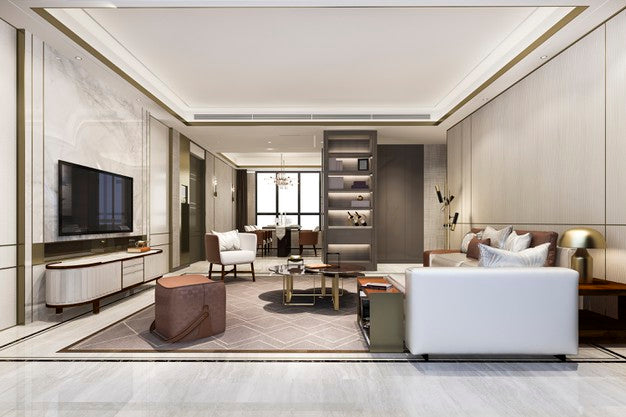 Avoid These Common Mistakes While Designing Your Living Room
How you design your living room can make or break the beauty of your interiors. Why? This is the room that sets the tone for the rest of your home, acts as a space for relaxation, and is also the room where you entertain guests. Hence, it is not enough to choose a fabulous colour for walls or super stylish furnishings and leave it at that. You also need to avoid some common living room design mistakes. These are easy to remember and will help you create a space that is aesthetic, inviting, functional and super comfy. Let's get started.  
Not thinking about the ease of movement
Since a living room is that area in the house that sees the most people, it is necessary to ensure that movement is easy and smooth here. So, consider the amount of traffic you might get on an average and check if the layout is ideal to accommodate that. Too many furniture pieces or décor accents can make it challenging to move around without bumping into something or knocking something off.
Read - 7 Ideas to Make Your Living Room Spacious
Ignoring the size of the room
This is surely among the major living room designing mistakes one can make. Stuffing big furniture pieces into a small living room can make it seem crowded, dark and stuffy. On the other hand, placing small furniture pieces in a massive room can appear strange and give a feeling of emptiness. The same goes for appliances like television and AC. Also, make sure that the sofa doesn't scrape the wall behind it. Ideally, leave a gap of two inches to make cleaning easy and to avoid getting marks on the wall. The TV shouldn't be too far or too near, and its distance from the sofa will depend on its size.  
Not considering the purpose of the room
One of the common mistakes of living room design is that, homeowners don't take into account the actual intent of the space. Just because it is called a living room doesn't mean that every household has to use it the same way. For instance, some families might want a very formal-looking room to entertain all kinds of guests. In that case, neat lines, minimalistic furniture and sober hues will work well. But, some might want a living room that is great for unwinding, watching movies or having fun with loved ones. In that case, more stylish furnishings, bright hues and unconventional designs might work better.
Disregarding functionality and comfort
Choosing furniture pieces that only look beautiful is one of the living room design mistakes many people make. If they are hard, uncomfortable or don't help you to relax, your living room will be incomplete. So, make sure that the furniture is supportive, comfortable and eye-catching too. Check the upholstery fabric and find out if it is easy to clean. Also, try and go for multifunctional furniture pieces that offer storage as well, apart from seating area. You will find many coffee tables and sofas at Woodsala that can do the trick.   
Read - 7 Ideas to Make Your Living Room Spacious
Choosing wrong décor accents or positioning them poorly
No matter how awesome a décor accent looks, unless it goes with the theme, size and purpose of your living room, it won't add to its appeal. So, whether you are choosing mirrors, paintings, or sculptures, make sure they complement the colour scheme, furniture size and the room size. Also, these should be placed so that they catch the eye easily or have natural or artificial light focused on them. If you are hanging something against the wall, choosing a too high or too low position is a mistake.
Not giving due importance to lighting
Among the living room design mistakes most homeowners are guilty of, poor or incorrect lighting is a major one. While too little lighting can drain energy from the room, harsh lighting can be an eyesore. So, choose the right mix of tube lights, pendant lights, cove lights and so on. If you want a focal point on the ceiling, a chandelier can do the trick. Also consider lights with dimmer options so that you can tweak it as per the mood.   
Now that you know what mistakes to avoid while designing your dream living room, get started and seek help from professionals if you need more guidance. And for all your furniture needs, choose Woodsala and take your pick from an amazing collection that can perfectly complement different rooms and design schemes. 
Read Also - Modern Wooden Sofa Design Ideas for Your Living Room