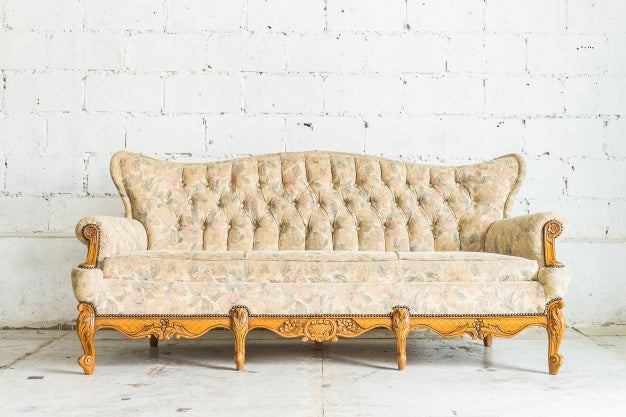 Tips to Choose a Wooden Sofa for Small Spaces
Be it your living room, den, or home office, a stylish and functional wooden sofa can take the room to a whole new level of wow! However, if you don't have much space available, a bit of thought and planning needs to go into buying the sofa. From the material and dimensions to the design and practicality, several things need to be considered before making a purchase. So, check out these tips before you buy a sofa online.  
Consider the size of the room – The first thing to do is measure the size of your living room or any other space where the sofa will be accommodated. Then zero in on a sofa size that leaves enough space for people to walk around. Also remember that it should be ideally a few inches away from any wall. Leave room for a coffee table, rug or decorative accents as well. However, a small room should not be crowded with too many furniture or decorative pieces. Here is a sofa style that is perfect for small spaces.
Focus on the usage – Your wooden sofa set should be able to accommodate all or most of your family members. Also consider the average number of guests who drop by before picking up the right size. Often, in small living rooms or dens, a neat 2-seater sofa can be paired with a couple of sleek chairs or ottomans, instead of investing in a big sofa. And if guests tend to stay over, you should ideally go for a foldout sofa that becomes a bed when required.

Read - 7 Ideas to Make Your Living Room Spacious
Check wood quality and finishing – Since any wooden furniture is usually a pricey investment, check the type and quality of wood used for the sofa. Find out where the wood was sourced from and ask if the seller will provide any certification or guarantee. Check the joints of the sofa and its general structure to decide its durability. The finishing is also important, whether you like oil-based finish, lacquer, varnish or stain. The colour and finish of the wooden sofa should complement the other furniture pieces in the room and the walls too. Here is a beautiful piece that will go well with light-hued walls and other dark, vintage pieces.
Don't ignore the design – The sofa set should match the general theme of your interiors and the room especially. For example, the ornately carved wooden sofa with an L-shaped backrest shown below will complement regal chairs, vintage mirrors and intricately patterned rugs. If your theme is contemporary, go for sleek sofas in simple designs. Also consider the effort you will be able to put in for maintenance and care. The more ornate the design, the more care it will need.
Explore storage-friendly options – In a small living room, den or study, it is wise to buy a wooden sofa set that has inbuilt storage. Note how the one shown below comes with a pair of sleek drawers to stash away magazines, books, games and even cleaning supplies. Such designs can help you save on the floor area and reduce your need for shelves and cabinets.
Spare a thought for the upholstery – Check if the softness of the sofa upholstery is as per your preference, and not too soft or hard. Cotton, satin, velvet, polyester and leather are among the common fabrics used for upholstery, and you can pick as per your budget and taste. Go for solids if the rest of the room (wallpaper, cushions or artworks) has a lot of patterns. Or, you can choose prints like delicate floral, stripes or checks. Always pick durable and easy-to-clean fabrics if you have children or pets.  
Finally
Before ordering a wooden sofa set online, keep the above points in mind and read the description and other details very carefully. A premium quality and elegant piece can lend oodles of personality to any small room and ensure comfort as well.
Read Also - The Ultimate Guide to Buying the Wooden Sofa Set for Your Home