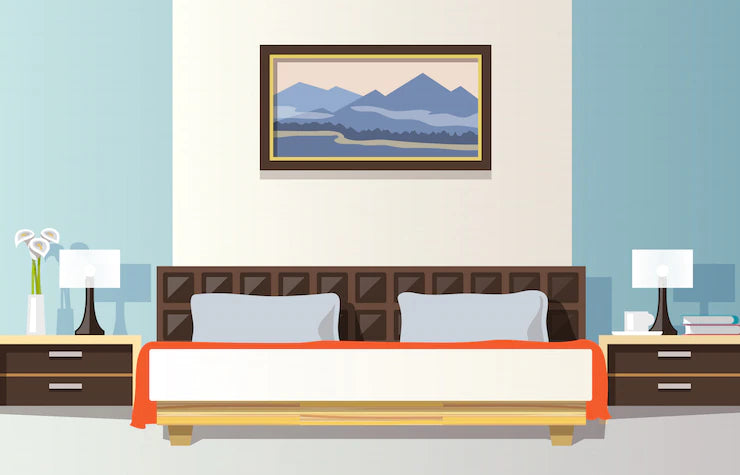 11 Unique two-colour combinations for your bedroom
Choosing the right colours for your bedroom is essential as colours have the potential to brighten or ruin the look of a room. To choose the right colours, you have to understand that there are three colour categories – cool colours, warm colours, and neutral colours. 
Cool colours tend to generate calm and positive feelings in the mind. These include blue, green, and purple. Blue is the fundamental colour in the cool colours range. Warm colours tend to generate feelings of happiness, love, grace, and passion. These include red, orange, and yellow. Red and yellow are the fundamental colours in the warm colours range, whereas orange falls somewhere in the middle. Neutral colours include black, white, greys, tans, and browns. They're usually combined with brighter colours. 
It is really important to know the categories of colours in order to choose the best two colour combination for bedroom walls. Lack of this knowledge could lead to a comedy of colours.
But you have nothing to worry about. We got you covered. Here is a list of unique two-colour combinations for your bedroom. 
Lavender and off-white
Lavender colour represents purity, silence, devotion, peacefulness, calmness, and grace. On the other hand, off-white colour represents naivety. These two colours work together to give a tint of sophistication to the bedroom. With this colour combination, even if your bedroom is small, it will look spacious and big.
Furthermore, colour therapists claim that lavender colour tends to generate healing and helps to create a peaceful environment. Overall, if you want your bedroom to generate joyful and rejuvenating vibes, you should choose a lavender and off-white colour combination. It will help you face challenging times. So, try this colour combination. 
White and blue
The sky and the sea are blue, and this colour is linked to freedom, instinct, vision, motivation, and perceptiveness. White colour symbolises peace and innocence. The blue two colour combination for bedroom walls along with white renders a breezy, fresh, and soothing feeling to the bedroom. You can mix and match and play with colours in plenty of ways. For example, the navy blue colour tends to add more deepness and dimension to the scenery of your bedroom. Again, this colour combination also helps to make your room feel bigger and more spacious.
Peach and warm white
The light peach colours are associated with lovely, melodic, and friendly vibes. On the other hand, dark peach colours represent energy, playfulness, and encouragement. You can have some fun with peach and warm patterns to come up with a stunning wall décor theme. Also, if you have inculcated architectural columns in your bedroom, you may want to paint them white and your walls in peach colour.
Alternatively, you can also use peach wallpaper with white designs on your walls. The combination is sure to look stunning. Furthermore, including white or a blue sky scenery would be an icing on the cake. 
Grey and pastel yellow
Yellow is the colour of the sun and it symbolises happiness, joy, warmth, and sunshine, whereas grey colour represents dignity, experience, and wisdom. The grey and yellow colour combination is an eye-catching one and ideal for the bedroom. You can have a bit of fun with this colour combination to create patterns, illusions, or dimensions.
For example, you can paint the left portion of the wall with yellow colour, the middle grey, and the right yellow. Alternatively, you can also paint the bottom portion of the wall with yellow colour and the upper portion with grey colour. You can also consider having zig-zag or geometric patterns on the grey walls. With this idea, your bedroom will look no less than a piece of art. 
Pink and lime green
So, if you think that pink colour is meant to be used only for a kid's bedroom, then you may be mistaken. Let us put your mind at ease by telling you what the colour represents. Pink is associated with endearment, kindness, and femininity. On the other hand, lime green colour is associated with nature, confidence, and high energy. The pink two colour combination for bedroom walls along with lime green can add a tinge of exuberance to the bedroom.
When you add green hues to your bedroom, you are giving it a natural look. If you are a nature lover, you should definitely go for this colour combination. Furthermore, this colour combination is well-suited for the kid's bedroom, as well. One useful suggestion is that if there are too many pink elements in the room, you can create balance by adding a lime green rug, lamps, bed sheets, etc. 
Burgundy and beige
To give a fresh look to your room, use burgundy and beige colours. This colour combination resembles the grand décor of Moroccan-styled bedrooms. After using these colours in your bedroom, you will realise that it ignites vibes of romance, glamour, and drama. 
Terracotta and ivory
Ivory is a rich and warm colour that symbolises calmness and relaxation, whereas terracotta is a cosy colour that brings warm feelings to the home. It bears the qualities of orange colour, which reflects spirit, intuitiveness, energy, and joy. In short, terracotta is a colour of celebration. The combination of terracotta and ivory colours work well to balance the other out and give the area a distinctive feel.
Ivory will delicately counterbalance terracotta's otherwise dominating hue. You can say terracotta and ivory are two sides of the same coins. For an earthy, rustic appeal, you can also experiment with a brown colour scheme for the bedroom walls.
Cream and brown 
When you think of brown colour, what comes to your head? Is it earth? Is it chocolate? The brown colour is often associated with strength, trustworthiness, security, and safety. The cream and brown colour combination is elegant and pleasing. For optimum results, add small touches of brown to walls that are mostly cream in colour. A bedroom colour scheme of cream and brown will look great with wood floors. A wooden side table, coordinating picture frames, or even brown bedcovers can be used to complement the brown colour of the wall. 
Charcoal and mint
Mint colour is linked with freshness and creativity. The charcoal and mint colour combination offers a smooth and soft environment. So, for those who want an easy-going and relaxed feeling in their bedroom, the charcoal and mint combination is the best. You may wonder if it is a good idea to paint the walls in charcoal grey. This colour is a sophisticated version of dramatic black colour and is ideal choice in many ways. Interior designers have often used this colour tastefully to get the best outcome. 
Brown and green
Some of the top two-colour combinations for bedroom walls in 2022 include brown and green. The green colour represents life, fertility, renewal, and resurrection. This bedroom set colour scheme melds flawlessly to produce a tranquil atmosphere. Sage green has been a popular choice for bedrooms as it gives an appearance inspired by nature. A fantastic two-colour combination for walls that creates a neutral alternative for a calm environment is almond brown and green.
Red and white 
Red is the colour of joy, passion, love, and sensitivity. Consider utilising red in the bedroom to add vigour and a hint of passion. However, do it subtly because as per Vastu, red should never be overdone in the bedroom. It would look fantastic as an accent wall in a bedroom with soft white tones.
Additionally, the bedroom's white and red colour scheme gives the space a bright, airy appearance. Instead of painting an entire wall red, you could add a red flower design to a white wall to brighten it up. You can also choose grunge texture paint by painting one wall in a combination of red and white. Also, you can also consider replacing red with orange two colour combination for bedroom walls with white.
While two colour combinations matter, at the same time, factors such as room size, décor theme, direction, and amount of sunlight should be taken into consideration too. The top half of the room's walls should be painted in a light shade. This scheme will create an illusion of space. Accentuating bedroom wall colour combinations with textures and colours is a fantastic idea. For instance, you can draw attention to the wall design by combining beige or brown colours with textures like brick, marble, or stone. Your bedroom walls might feature patterns like circles or chevron herringbone designs to create extra drama.
Conclusion
If you ask, there is no perfect two colour combination option. In other words, every colour combination mentioned above is great. If you want relaxing vibes in your bedroom, you should consider going for purple two colour combination for bedroom walls along with white or matching pink two colour combination for bedroom walls with off-white. You can also consult a professional to understand what will work best for your bedroom.
Also read: 8 Tried and Stylish Dressing Table Design Ideas For Your Bedroom