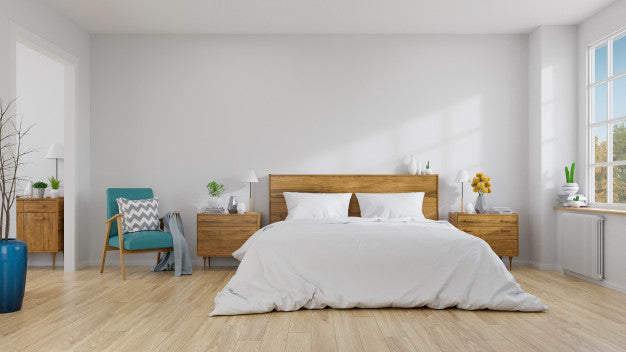 Wooden Bed Design Ideas You Must Consider for Your Bedroom this Year
It's true that modern society has come a long way from those rough hunting-gathering days! Plus, technological advances have infused our daily life with the utmost comfort. Still, you have to expertly juggle social, workplace, and familial responsibilities every single day. And it can make you exhausted. So, when you want to relax, unwind, stretch yourself, and sleep your worries away, you need a good bed. This is an essential piece of bedroom furniture that can make all the difference to a good night's sleep. 
Instead of going for any other bed design, wooden bed can be the perfect fit for your bedroom. Be it something traditional or the latest, wooden bed designs perfectly combine comfort, compactness, and sturdiness, and accentuate your bedroom with a touch of timeless class and character. There are several types and styles of wooden bed designs available on online sites and in physical stores these days. The trick is to pick one that is most suitable for your needs and complements the décor style of the rest of the room too. To help you choose one wisely, here are some wooden bed designs that you should consider.
Platform bed – Low in height and without the hassle of a spring solution, these beds feature a flat, solid base for excellent mattress support. If you want to give your bedroom a clean, sleek look, wooden platform beds can be a perfect choice. Use any mattress on it, as per your requirement. Platform beds offer optimum back support to the whole body because of its flat base. These beds don't take up much space and the slim look doesn't add to the visual clutter. So, they are just perfect for modern apartments that are short on space. Plus, the charm and sophistication of solid wood will make you want to curl up in peace.
Wooden beds with storage – Storage beds are a perfect blend of comfort, style, and economy. Available in both single and double versions, these beds feature storage drawers or boxes to store out-of-season clothing, extra blankets, linens, pillows, and everything that you think would add to the clutter in the room. Made from solid wood to stand the test of time, these storage beds add character and depth to your bedroom.
Canopy bed – This dreamy canopy bed from Woodsala looks straight out of a fairy tale. Four solid wooden posters, along with a classy headboard, can lend a heavenly touch to any bedroom. Drape a netted or light sheer fabric over the top and around the sides to make your sleeping sessions even more luxurious. Apart from the aesthetics, these canopy beds have utilitarian values as well, as the additional fabric will keep you warm during winters. So, add a hint of romance to your bedroom as you get ready to dream your night away.
Read Also - 7 Small Bedroom Organizing Ideas that You Can Use
Cottage style single bed – Add a whimsical cottage-like charm to your bedroom with these cottage style beds from Woodsala. The light brown hue and light polish of the wood ensure that it can fit into any decor theme. Handcrafted from premium wood, and featuring simple straight lines, this bed is perfect for both kids as well as adults who are looking for a durable and sturdy option.
Sleigh double bed – If comfort is the top consideration on your mind, this elegant wooden bed with a sleigh-shaped headboard is just what you need! Curl up with a cozy blanket and a good book or catch those late night TV shows, with tons of support from this bed. Its low height is especially meant to provide optimum support to your back as well as the entire body, whether you're sitting up or lying down.
There is a common perception that, wood and style don't go hand in hand. But that idea has never been more wrong, as the imagination and creativity of today's designers prove. The latest wooden bed designs are available in various styles, which can even make our ancestors envious, in fact. So, while purchasing a wooden bed, pick any one from these popular styles-
Modern style – These wooden bed designs are simple yet stylish. With no added accents or extra decorative elements, these contemporary style beds can gel with any type of bedroom, adding to the charm of the space.
Mission style – Mission style beds are perfect for elegant bedrooms. This style of bed comes with horizontal lines on the headboard and footboard, making it an instant standout among all the other furniture in the room.
Cottage style – If you are fascinated about European styles, a cottage style bed is perfect for you. Like other European style furniture, wooden bed designs in cottage style come with elaborate detailing on the headboard, finely carved out of wood with a light or dark polish of your choice.
Conventional style – With finely polished woodwork and a distinct vintage look, a conventional style bed will surely arrest the attention of onlookers. This style of bed is designed to provide an ageless aura to your bedroom, and to remind you of the good old bygone era as well.
Country style – If your mind always yearns for the countryside to get a break from the monotonous city life, bring home a country style wooden bed. Featuring an extra-long headboard and made out of semi-polished wood, this particular style of bed has the potential to give your bedroom a uniquely different rustic farmhouse appeal.
Apart from picking the perfect style and type of bed for your bedroom, you should also evaluate certain factors to avoid being cheated-
The price of any wooden bed design largely depends upon the wood from which the bed frame is made. So, don't forget to check the authenticity and sturdiness of the source wood.
It's necessary to chalk out and measure the available carpet area before buying any type of bed for your bedroom. Since a bed is largely responsible for enhancing the aesthetic beauty of the room, it's advisable to choose a modern bed design according to the size of the room, available space, and possible position of the bed.
Doing a price comparison before buying a bed always comes in handy. There are several reputed dealers like Woodsala, who offer amazing discounts and after-sales services, enabling you to compare and choose the best bed for your room.
All in all, these modern bed designs offer comfort and style, the two things you need in a contemporary bedroom. There are plenty of other design ideas you can choose from too, as long as you know what you need. Consider your room size, the overall decor scheme, as well as the age group of those who will be using the bed, as they might have some specific requirements in terms of style and construction. Think through all the factors carefully before you buy wooden bed online, so that it suits both your style as well as your life. You can also go for custom-built wooden bed designs, complete with wooden frame and even intricate carvings, as long as you zero in on a trusted and reputed brand online or offline.
Read Also - Trendy Bed Frame Ideas for 2020