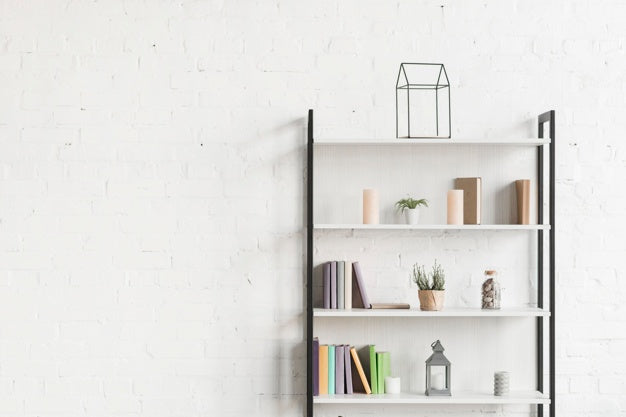 5 Amazing yet Practical Uses of a Wooden Wall Rack
Organizing your home can be fun or tedious, depending on your attitude and the hacks you use. However, there is no denying the fact that de-cluttering interiors can freshen up the ambiance, make movements safe and easy, and help you live a disciplined life. In this regard, wooden wall racks deserve special mention as they make organisation simple and enjoyable too. Apart from acting as the perfect storage solution for all big and small items, they liven up walls and lend visual depth. If you're passionate about keeping your home tidy and clean, you'll surely love to use wooden racks for these purposes:
Display plant pots – Do you have a green thumb but are short on space? Well, even if you don't have enough space on your windowsills or in the balcony to accommodate plant pots, you can arrange them on wooden shelves or racks. Such shelves are easy to install and can be fixed anywhere, be it near a window for sunshine, or in the living room, or in the patio to accentuate the beauty of the space. Just make sure that the shelves are strong enough to bear the weight of the plants. Plants in small pots, like aloe vera, cactus, air plant, bonsai, rubber plant, and Chinese money plant are popular for indoor décor and can be neatly organised on these racks. Wooden wall hanging racks with wrought iron detailing or pure wooden racks are great for the purpose.
Ideas - Use Your Walls - Stand Tall
Design your private library – Looking for a wall rack for books? Well, if you're a book lover, you probably love to display your collections and admire them every day. Wooden racks can be perfect for that and they won't eat up extra floor area too. They are especially helpful in small homes. On the other hand, if you have a large bedroom or living room, wooden shelf racks can act as your personal library. You can place it in the living room or in the dining area as well, if books define who you are!
Set up a stylish dresser drawer – Don't have enough space for a dresser in your bedroom? Fret not, as you can now have your very own dresser without really wasting any floor area. If you've got old drawers that you no longer need, you can simply take the drawers out and fix them against the wall to use as a vanity rack. Just place a mirror of your choice on a particular bedroom wall and fix two or three drawers around it, to easily access your essentials. These drawer racks can double up as a vanity shelf to hold your makeup items and other cosmetics!
Guide - Practical Guide to Buying the Best Wooden Wall Rack Online
Make the kitchen functional – The one area of the house that can never have enough storage space is the kitchen. From storing spices and condiments to organizing cutlery and crockery, there is always a need for extra storage space here. Hence, wooden wall racks are great for the kitchen because they can be used to hold utensils, cleaning supplies, pickle jars and even dining accessories like paper towels, table mats, runners etc.
Bring blank walls to life – Whether it's your living room, your office or your bedroom, wooden wall racks are a creative storage solution. This is especially true if you don't have a lot of space in the room for additional furniture, but have blank walls crying out for attention. Whether it's a wall rack for home or office, it will be ideal for organizing collectibles, photos, laurels and what not. Be it a small souvenir that you picked up during your last vacation or a decor item that your friend got you from abroad, a wall rack for office or home can be the perfect storage and display solution.
So you see, these wooden wall racks are the most understated yet important part of your home decor scheme. And you simply cannot ignore them. You can check out these wooden wall racks online at Woodsala now, to find the best solution as per your taste and budget.
Read Also - Wooden Wall Clock- Interesting Ways to Decorate Your Home