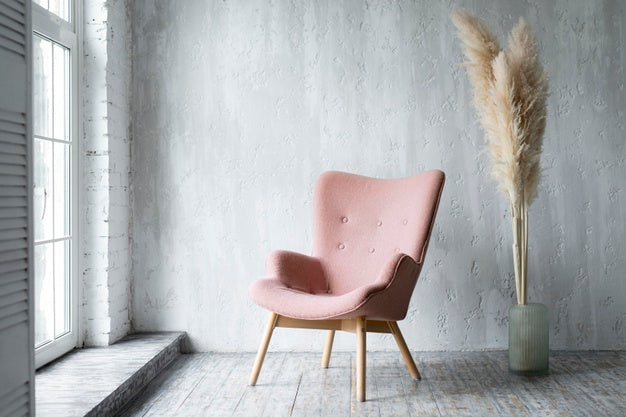 How to Give Your Old Wooden Chair a New Look
For most people, parting with old yet favourite items is tough indeed. Like, a certain piece of furniture might have a lot of sentimental value for you. It might be a prized family possession or a piece that you bought from a thrift store or a local market at a real good price. So, if you are not too keen on giving away your old wooden chair, you are not alone. Maybe you bought it with your first salary or maybe your grandfather used to relax in it! The good news is that, such old or even dilapidated chairs can be given a fresh lease of life, if you follow some smart tips. Read on to know more.
Spray Paint – If a wooden chair design is still functional but has lost its original sheen and finish with time, spray painting is the best way to bring it back to life. First sand the chair with sandpaper and wash off with detergent. Let it dry completely. Once dried, check if the spray paint has primer in it. If no, coat it with a layer of primer. Let it dry and then start spraying the paint. Leave it to dry for 24 hours and your chair will be as good as new.
Unleash your creativity – Merely painting a home wooden chair can just change the basic look of it. But, what if you want to give it a complete makeover, go a step further and bring out the artist in you? Use designs and different colour combinations to make it look trendy yet appealing. Using stencil designs on the seats is also a great idea!
Get Ideas - 7 Ways to Completely Revamp Your Wooden Chair
Re-upholster the chair – Most old chairs won't have full upholstery. Depends on how you want to use it, you can choose to upholster your old wooden chair with fresh printed fabric to make it look brand new. You can get your old dining chair fully upholstered to match the sofa and use it as an additional seating in the living room. Alternately, you can just upholster the seat and the back, and use the chair in your study or as an additional seat in the dining room.
Repair it – If the back or the arm is wobbly and the seat is displaced, you can always choose to get the chair repaired and hammered. Just get it fixed like it was or you could just choose to do away with the armrests and the back completely, to convert it into a stool for your bedroom.
Change the seating – Sometimes, instead of buying a new wooden chair online, you can simply make a small change in the old one to save money. If you've got a chair with its frame intact, but just the seat is the problem, you can easily change the seat into a niche plush upholstered one. Use a ply board and cover it with foam, fabric and other materials and finally a thick outer fabric to make a seat cushion.
So you see, you don't need to throw away that old chair just yet. Use these simple DIY tips to give it a stylish makeover and you'll have a trendy wooden chair that looks completely new!
Read also - 6 Trendy Chairs for your Home and Office
The Varying Worlds of Wood in Furniture
From couches to cabinets, beds to bookcases, there's no functional area in the house that is untouched by the finesse and richness of wooden furniture. Its unique aesthetics, sturdy constitution, a...
Read more