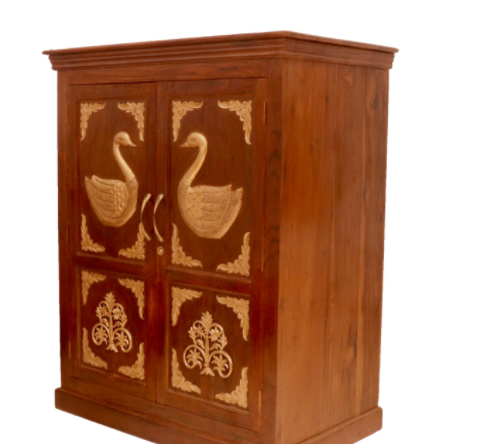 Different Types of Wardrobes for Your Home: All You Need to Know
The funny thing about wardrobes is that it is probably your most understated piece of furniture and yet one of the most vital. You don't show it off to guests or place it prominently to be seen but unless you have sufficient storage options for your clothes, your house is always going to look messy and disorganised. Not to mention troubles caused by not being able to find what you are looking for, where you are supposed to find it! The good news is there are so many different types of wooden wardrobe that you shouldn't have any trouble finding the one that answers all your woes. So here is a handy guide to everything you should know about wardrobes to help you choose the best one for your needs.
Types of Wardrobe Design
 Did you know that the word 'wardrobe' was used in Medieval England to mean 'lavatory?' Over the centuries, of course, the usage of the word changed to mean what we understand by the term today – a storage cupboard, largely meant for clothes and sometimes featuring accessories like mirrors and drawers. By the 17th century, wardrobes started featuring separate compartments, one for clothes to be flatly stacked and another for clothes to be hung. This is the standard feature we see in wardrobes even today. From the very ornate wardrobes of olden times to the sleek 'closets' of today, wardrobes have changed a lot in form, though not in function.
With wardrobes finding a place in interior design plans, they are now part and parcel of the bedroom plan, sometimes disguised into the panelling. But we have so many types of wardrobes in India that most house owners still love to possess a traditional Indian cupboard in their homes. With designs like the ones you see on Woodsala, it is easy to make them part of your interior design plans. You would not only be possessing a part of Indian furniture heritage; you would also be providing your home with ample storage options. The great thing about standalone cupboards is that they are beautiful to look at, are available in various sizes and with various features and can be moved from one room to another as per your changing requirements. If you are still in doubt, check out these amazing types of wardrobe styles:
Smart and Contemporary
The Grid Wooden Cupboard from Woodsala is a sleek piece of furniture that fits right into your modern lifestyle. With a muted elegance and smart compartments, it is a perfect fit for your bedroom. The division of space leaves ample volume to stack your clothes without cramming and can also accommodate larger pieces like blankets or spare pillows.
For the Highly Organised Householders
The 4 door wardrobe with drawers is the perfect fit for people who always need to have everything in perfect order. With its multiple storage compartments in varying sizes and drawers, you can figure out at a glance where everything is. This is a solid investment for a practical family and scores high on looks too.
Traditional and majestic
The Rajwadi Style Solid Wood Cupboard is a joy to behold! This is a design to please the artistic and vintage-furniture admirers! Reminiscent of the cupboards that used to be part of wedding trousseaus, the cupboard features intricate detailing and brass work that is eye-catching. This is such a stunning piece of furniture that you would want to put it in a visible spot of your house! It has two separate storage units with drawers in between and has four doors to organise everything just the way you like it.
A Unique Vintage Style Wardrobe
Organising your stuff is not just about clothes, especially in these times when you have a stole in every shade imaginable and handbags to go with every outfit you own. Your accessories deserve as much space and attention as your clothes – which is why you need this unique organiser wardrobe that features 14 drawers and one large shelf. This two-sectional wardrobe is a handcrafted, vintage piece that will be as great a conversation starter as it is useful to have. This is one wardrobe that doesn't have to be tucked away inside the bedroom. It can serve a variety of storage needs in any part of the house.
Top Up Your Storage Options
This compact wardrobe from Woodsala is like an extension on your storage options. When you realise you have just a little bit more of stuff or you realise your spare towels and guest sheets are getting crumpled under all that cramming, get yourself one of these. It has 4 robust shelves that can take care of your cramming issue in style. The brass inlay work depicting peacocks is simply stunning! This is a piece you would love to own just for the looks of it, but it helps that it is also a handy, compact piece that will make life so much easier for you!
Jazz Up a Free Corner with Additional Wardrobe Space
If you have a spare corner in your bedroom that you don't know what to do with, use your foresight about expanding wardrobe needs and invest in this quirky piece of Indian vintage furniture that will immediately transform the look of your room! From the other types of wooden wardrobe, this one is tall and sleek design means it can fit into a narrow space and will not overpower the room with its size. But at the same time, it has plenty of room to organise your latest round of shopping or even your documents or jewellery. But its most stunning feature, of course, is the intricate handwork that makes it almost a beautiful piece of art. The unique mint colour and distressed finish add to its quirky elegance.
There are just so many types of clothing wardrobes available online that all it takes is a few minutes of your time to get your life organised. While it is important to declutter from time to time, it is also a fact that we keep accumulating new things year on year. So the best solution is to opt for stylish and convenient types of wardrobes designs like the ones above to ensure your home is always neat and organised.