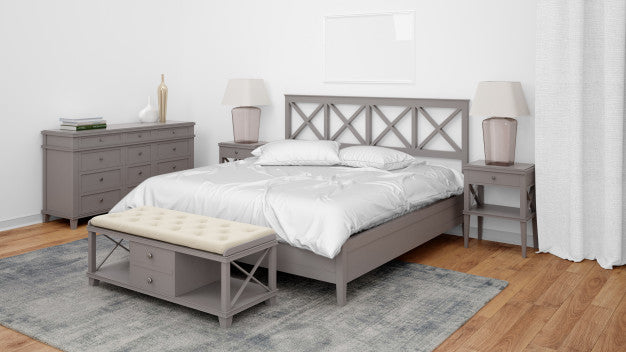 Choose From Bed Styles That Are Comfortable and Aesthetic
What do you look forward to most at the end of a long day? Is it the plush comfort of a big beautiful bed? Then, you are not alone. Since you spend at least a third of your day in the bedroom, it makes complete sense to invest in a durable and elegant bed that supports and soothes your senses perfectly. So, being aware of the latest trends in bedroom furniture in important, so that you can choose a wooden bed that is just right for you. The bed styles listed here are especially a rage this year and can help you make an informed choice.
Canopy Beds
One of the hottest in bedroom trends for 2020 is the classic canopy bed. It is a bold choice that can go well with a contemporary or traditional décor scheme. The elegant design of a canopy bed can instantly lend flair and style to your bedroom. You can go the vintage way with rich brocade curtains and paisley bed sheets or take the modern route with bold floral prints.
Diwans/ Single Beds
Functionality and efficiency are the key elements in design trends in the light of the pandemic that has driven everyone indoors. With the need to accommodate home offices and work stations for online classes, saving space is a key criterion in furniture choices. And that is why beautiful Diwans or American style single beds are great choices if space is a consideration for you.
Beds with Patterned Headboards
Minimalism is taking a break this year, with people looking to add some cheer and playfulness to their homes. Luckily, headboards come in a wide variety of designs and add a charming element to any bedroom. You can go for interesting patterns in wood for a unique and sophisticated look especially. Just make sure it goes well with other furniture pieces like side tables or the dressing unit.
Read - Make Your Bedroom A Trendy Haven with Wooden Furniture
Beds with Storage
Functionality dictates maximizing the use of all available space, and what better combination could there be than beds with built-in storage? It can eliminate the need for side tables and free up more space if the bed provides space for your essentials on the head board. It is a fantastic combination of style and functionality, like this bed from Woodsala.
Sleigh Beds
Sleigh beds are a classic design that never goes out of style. Lend your home a timeless vibe with this design if you want to opt for a safe choice. These beds are great for watching TV while you are resting or propping yourself up while reading. They are low-maintenance, non-fussy and can go well with compact bedrooms too.
Classic Double Beds
Double beds have always been popular, and if you are opting for one, you now have many designs to choose from. Keep it light and simple with a modern finish or opt for a sturdy teakwood finish with elegant carvings. Platform beds are trendy too and are on any forward-thinking designer's list for this year. Go for a platform double if space permits and adopt the smart trend.
To wrap up, wooden furniture never goes out of style. These pieces are versatile and come in different designs, finishes and styles to complement your bedroom decor. Moreover, wood lasts for a very long time and can be passed on from one generation to another. That is the reason why you need to go all out while making that choice. Whether you are looking for a modern bed or a traditional one, buy your bed online  from Woodsala and enjoy restful nights and cosy days.
 Read Also - Trendy Bed Frame Ideas for 2020