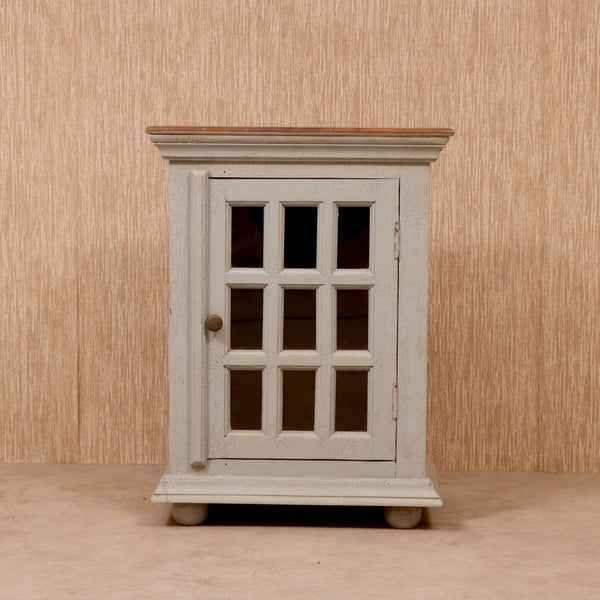 10 Antique Furniture Pieces from Woodsala Collections
During the last two years, when people were stuck indoors and working from home, the need for convenient and comfortable furniture became a priority. Also, mass produced furniture felt oversaturated in a short period. People began looking for rare items and the current trends are pointing towards antique furniture. Many were even opting to buy second hand antique furniture online.
If you are not hit by the rising demand for antique furniture online yet then it is time to jump in. We have a list of antique pieces of furniture that you are going to definitely love. If you don't believe us, simply look at the list. Your eye is bound to catch at least one piece that will make you wonder how it would look in some corner of your home. Glance through. 
1.

Antique Grey 3 Door Drawer's Table
A table should be brown or black. It would be rectangular in shape and must have a chest of drawers along one side of the table. Who said this is the only way things should be? You can always experiment and try something different too. For instance, this grey antique furniture India is completely different from the description of a conventional table.
It may be different but can serve the same function as a conventional one. On the plus side, this one will look a lot better. So, you could place it in your kid's room or your study or your bedroom, this antique wood furniture will continue to be a statement piece furniture. 
Read - Modern Wall Shelf Designs for Every Room
2. Antique Style 6 Shelf Rack
Every home needs storage. You can never have enough of it. This antique shelf rack with six rows would work wonders for any room, be it the bedroom, living or even he study. The height of the wooden antique furniture ensures that the entire vertical space is used up. It is idea for storing your photographs, books, showpieces or trophies too.
The sturdiness of this antique furniture will make it easy for you to store heavy items as well. The best part is that it will last long so you do not have to worry about a replacement for a long, long time. It has a classic industrial and vintage appeal. It will go well with any décor setting.
3. Antique Design Classic Mirror
Just like people, you will find mirrors in different shapes and sizes. The come in different styles too. But one of the best among them is this antique mirror that reminds you of a bygone era. Back in the day, the royalty would use such mirrors or antique Rajasthani furniture in their houses or palaces to get ready.
A mirror can really enhance the aesthetic appeal of a room and this antique classic mirror will take it to another level. The detailing work is unlike any modern designs and will grab the attention of many. You could almost feel no less than royalty while you get ready each day. You could also team it up with an antique chest of drawers to keep your trinkets and combs and whatnots.
4. 5 Shelf Wooden Antique Rack
Have you ever thought about an unconventional way to create a partition between your living room and dining room? Folding screen partitions are not trending anymore. You can now use this antique wooden rack with 5 shelves. This living room antique furniture would be the perfect room partition.
This Indian antique furniture would also make a great addition to your kitchen in all its antique glory. You can place your jars of spices and pulses on it. If you choose identical jars and organise everything neatly, the entire shelf will look like it just jumped out of an organisation website. This could also make your work in the kitchen a lot more efficient.
5. 2-Drawer Antique Almirah
If you are someone who enjoys watching old movies, you may have seen one of these almirahs in them, standing in a corner alone, usually holding very important documents. This antique almirah can also function as an important part of your home. Place this antique Rajasthani furniture in your study to store your files or documents.
You could also use this wood-framed glass-panelled almirah in the puja room to keep your incense sticks and other puja items. No matter what you use it for, the antique furniture in India is bound to add that old world charm to your living space. In addition, there are two drawers at the bottom so you will get extra storage spaces.
Read - Guide to Buy Wholesale Furniture in India
6. Country Wood Brown Antique style Coffee Table
Every time you enter any house of office, you may have seen that most coffee tables are in glass. Rarely do you see something that is completely made of wood. This antique table oozes with both simplicity and style. Place this in your living room or study and you will be breaking the herd mentality of having only glass top coffee tables.
There are dual benefits to having this antique furniture design in your home. Not only will it look rich and sophisticated, you will also not have to worry about it breaking. If you have little children at home, all you have to do is cover it with a throw and it can he a small seating for them. 
7. Old Antique Door Dining Table - Natural Tone
Most homes have rectangular tables but if you belong to a nuclear family then this square table would be ideal for you. It will also help you save a lot of space. Most dining tables have runner thrown across its length but this table looks great in its natural form.
Of course, antique furniture would be wise to use coasters and table mats during meals, but it surely does not need extra enhancements when you are not using it. At the most, you could place a small vase and place a flower or two to add freshness to the entire dining area.
8. Solid Antique Table
Did you know? Most children who grow up with a rectangular table this big end up learning how to play table tennis at a young age and become really good at it as they grow up. This is because they have a table that resembles a TT growing up. We are kidding. This piece of information is completely untrue. But it sure would be easy to teach anyone who wanted to learn on this wooden antique furniture.
However, let's also not forget how beautiful this antique table would look in your dining area. Its subtle detailing, carvings and oval shape is unlike your regular dining table. The antique furniture looks elegant and also convenient when you have guests over for a meal. Seating them at this table would be much better than having them awkwardly hold their plates on the living room sofa.
9. Sheesham Antique-Finish Bed With Storage Box
Having a good night's sleep helps you prepare for the next day. So, it only makes sense that you invest in a bed that helps you get that comfort. This antique bed is a great option to invest in. The Indian antique furniture has character and can add warmth to a bedroom simply with its presence.
The headboard is hand-carved and can stand the test of time. It also has tiny drawers on the headboard. So you can keep your glasses or night creams there. The bed is one of a kind.
10. Antique Blue Finish Cabinet
Looking for a cabinet that is antique furniture for sale in India and will store your artefacts as well as look good standing in your living space? This shabby-chic cabinet may just be what you are looking for. It will add a rustic feel to your home while also take the level of classiness up a notch. The blue distressed look gives it a more vintage charm. The best place to keep this piece of furniture is somewhere in the living room, within everyone's view.
If you liked any of these do not hesitate to add to cart and we will deliver antique wooden furniture India to your doorstep. It is that easy. The collection is one of a kind created by some of our most skilled artisans. Take a look around your house and decide which of these pieces would look simply great. If you are not satisfied by this collection, you can always peruse through our website for more options.