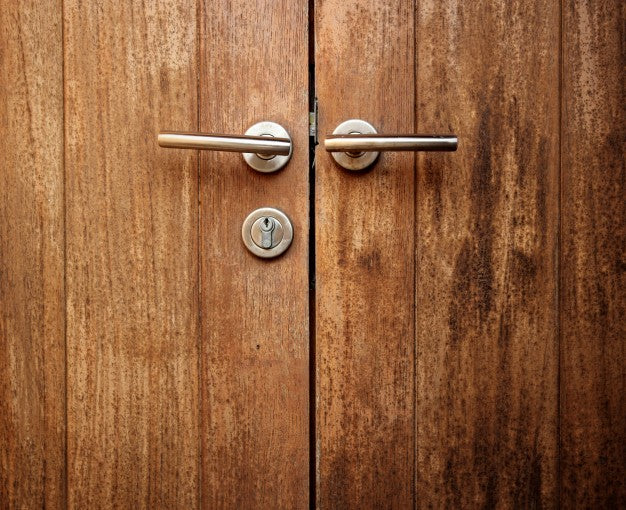 All You Need To Know Before Buying a Wooden Door Online
Nothing captures the Indian home aesthetic more than a beautifully carved wooden door. A solid wooden door made with exquisite teakwood not only provides security and privacy from the world outside, but also adds splendour to your house.
If you are looking to buy wooden doors for your home, here are some pointers to get you going.
Exterior and Interior Doors
The build and purpose of exterior and interior doors are completely different. Therefore, you may find that they differ greatly in price and installation. Exterior doors are meant to provide security while offering a level of protection from the temperature variations outside. For stand-alone houses, the front and back doors that open to the exterior need to be tough and durable. They also create the first impression of your home, and so you need to choose a door that perfectly captures the spirit of your home.
The front door is usually the heaviest and largest door in a house. Go for the best quality wood and make sure the door frames and hinges can handle the weight of the door. Besides amazing wood carvings, the door can also be accessorized with bolts and locks that will make it stand out. Brass knobs add a timeless elegance to wooden doors. Put special thought into your door handle as this equipment draws attention from visitors.
Interior doors are not made of the same quality of wood as exterior doors, hence are much lighter in weight. But there are a lot of contemporary styles and designs that you could check out.
Door Colour
Rich and dark coloured doors are the trend for the year. You can opt for darker stains even for interior doors. It will add elegance and sophistication to your living space. Traditional doors often have a wonderful hue from the aged wood and some are also painted in unusual colours. Check out the wide range of antique doors at Woodsala for unique colours and designs.
The colour white is no longer considered trendy, and it is also, rather difficult to maintain. However, nothing adds warmth to interiors like wooden hues.
Read - A Complete Guide: How To Buy A Best Glass Doors Cabinet
Carved Doors as Wall Art
Repurposing doors from the old houses is a great way to introduce unique art into your home. Even a richly carved new door with the apt polish can be hung on a blank wall to create an arresting visual impact. Some people like to use doors from their old homes as wall hangings to keep their connection with the past alive.
Puja Room Doors
This is an area that gets a lot of attention and the right door can add a special feeling. A lattice-work carved door with little bells is a popular choice to create the perfect ambience for a soulful experience.
Measure your Door Frames Before Buying a Wooden Door Online
Even though your door frames are of 'standard size' as per your builder, always recheck measurements before you settle on your choice of door. If there is any customisation you require, it is a good idea to check with the seller in advance. A reputed online store like Woodsala will provide you with the option of customisation.
Delivery and Installation Procedure
Another crucial aspect to check before you buy a door online is the expected timeline for delivery and procedure for installation. And different online stores have different policies, so it is always safer to have clear information before you place the order. Use the chat or email link or phone number provided in the site for such clarifications.
Frame a grand entry to your home with the perfect wooden door. Happy memories to you!
Read Also - 7 Maintenance Tips to keep your Wooden Door good as new