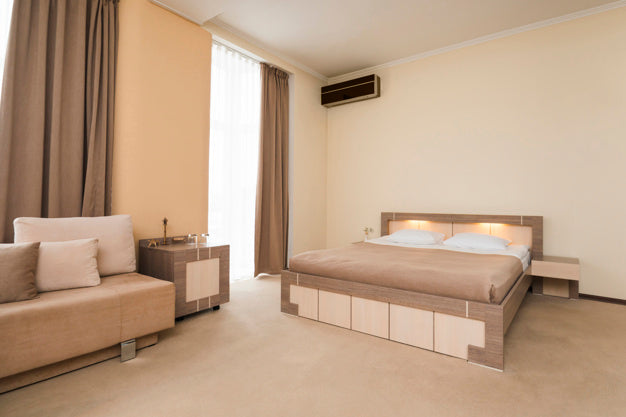 Affordable Bedroom Furniture That You Need to Buy Now
Now that you are spending so much times in our homes, you might have got some new ideas about making better use of your spaces – especially the bedroom. The space is no longer just as a place to crash in at night, it has grown to become a private haven for people to work in comfortably. If you have been thinking about ways to spruce up your bedroom, here are some ideas that you may find useful.
Sleek and Stylish Beds
If you have felt that the size of your bed is all wrong, now is the time to get the one that really works for you. You can make space for a work table or a comfy plush chair in your bedroom by getting a bed that is too big in size. Sleek and minimal is the bedroom trend right now. Go for a modern, designer bed and get premium luxe beddings to make it extra comfortable. Check out Woodsala's range of amazing wooden beds to find the perfect one for your bedroom.
Practical and beautiful tables
Your bedroom is not just a place to sleep in, it is also to work and lounge in. A table is now an essential accessory in the bedroom – and we don't just mean a dressing table. You should have a functional space that can double up as your home office. Consider bringing in a wooden study table with drawers. We also love the little bar table available on Woodsala, that is all about creating a private zone to relax in.
Read - 8 Simple and Smart Tips to Create a Cosy Bedroom
Bedside Table/ Cabinets
A bedside cabinet is one of the most useful pieces of furniture in small spaces. Go for a cabinet instead of a bedside table - one with drawers or doors to make full use of the space. There are also some interesting designs that feature both racks and drawers. In addition to your table lamp, mobile, chargers, specs or book, it can also hold a lot more things you need to readily access.
Wooden Pillars
A beautifully carved wooden pillar is a great addition to the bedroom. Use it to place a potted plant or a sculpture or even an interesting curio. It creates a character for the room without taking up too much space.
Mirrors
One way to dress up a plain wall and also add depth to the room is to add a mirror. The bigger the space you have, the larger can be the mirror. Choose one with an interestingly carved frame.
Read - 6 Reasons Why Woodsala's Stunning Beds Are Worth Your Money
Carved hooks
A simple and economical way to spruce up the bedroom is to use wall hooks in elegant carved wooden frames. They add elegance and charm to the room while also keeping the space organised.
Wall Shelves
Add some practical function to your walls with wooden shelves. Nothing enhances the look of a room better than a clean and clutter-free space. Wall shelves are the perfect solution to ensure everything is in its right place. Depending on the available wall space, you could opt for floating shelves, corner shelves or even an intricately carved wall-mounted cabinet.
If you are thinking of setting up or redesigning your bedroom, you cannot go wrong with wooden furniture. They are classy and timeless, low on maintenance, and last for a long time. They are also affordable and beautiful. Browse the catalogue at Woodsala, and see the world of options available to brighten up your bedroom and give it a whole new feel.
Read Also - Make Your Bedroom A Trendy Haven with Wooden Furniture